Searching for used items may not seem like the best way to find the perfect accessory for your kitchen, but one Redditor is proving that to be false with a great find — a beautiful, handcrafted mug for an unbeatable price.
The post was featured on the subreddit r/ThriftStoreHauls and featured a gorgeous brown mug with a caramel-colored inside and a unique handle — an oval shape extending from the lower half of the mug instead of spanning the length of the mug like it normally would.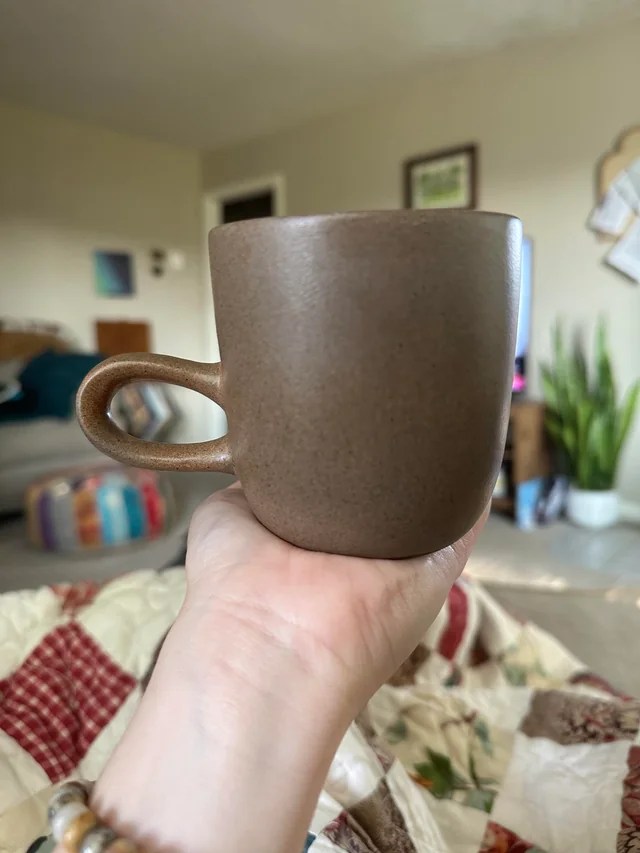 "Got home, looked it up, and it turns out it's a vintage Heath Ceramics mug that goes for $80!" said the original poster.
Heath Ceramics is a company that creates high-quality, ceramic dinnerware with a focus on using human craftsmanship when possible instead of relying on machines.
Finding great deals at secondhand sales or thrift stores like this Redditor did is pretty common.
One thrifter found a Dutch oven for just $13, while another Reddior found rattan bar stools for $6 each, and these deals aren't just limited to household items. A TikToker found a $12 vintage Versace dress that could be worth up to $10,000!
Deals like these that come from shopping second hand can save your wallet (or allow you to get more out of your shopping budget.) Plus, they make shopping more fun — having to worry less about how much you're spending means you can enjoy the process and find unique items.
On top of that, reusing items, whether it's clothes, kitchenware, books, or anything else, helps out the environment immensely. All together, American households produce around 300 million tons of trash per year — that's about 5 pounds per person each day. Shopping for used items or selling your unwanted items instead of throwing them out helps to cut down on those numbers — and it might even get you a deal like it did for this Redditor.
Commenters on the post were thrilled by the idea of finding a Heath item for such a low price.
"Great find! I love Heath and have a bunch now," wrote one.
"Heath is the Rolls-Royce of everyday ceramics. Good for you," added another.
Join our free newsletter for easy tips to save more, waste less, and help yourself while helping the planet.