One homeowner on Reddit turned their boring lawn into a perfect play area with a couple of clever hacks.
More and more people are swapping out their lawns for more interesting, affordable, and easy alternatives. There are many companies like Yardzen that will help choose beautiful and low-maintenance native plants, but some homeowners choose the DIY approach.
This homeowner seemed especially proud of their results. They shared before-and-after photos that were quickly reposted to r/NoLawns, a subreddit dedicated to lawn alternatives, including "rain gardens, xeriscaping, strolling gardens, native plants, and much more!"
The "before" photo showed an ordinary lawn with a few stepping stones leading from the door to the driveway.
The "after" photo was a complete transformation. A large play area covered with low-maintenance wood chips surrounded a covered sandbox and a child-sized picnic table with an umbrella. New flowers sprouted in areas that used to be bare grass, and vegetables flourished in new garden beds.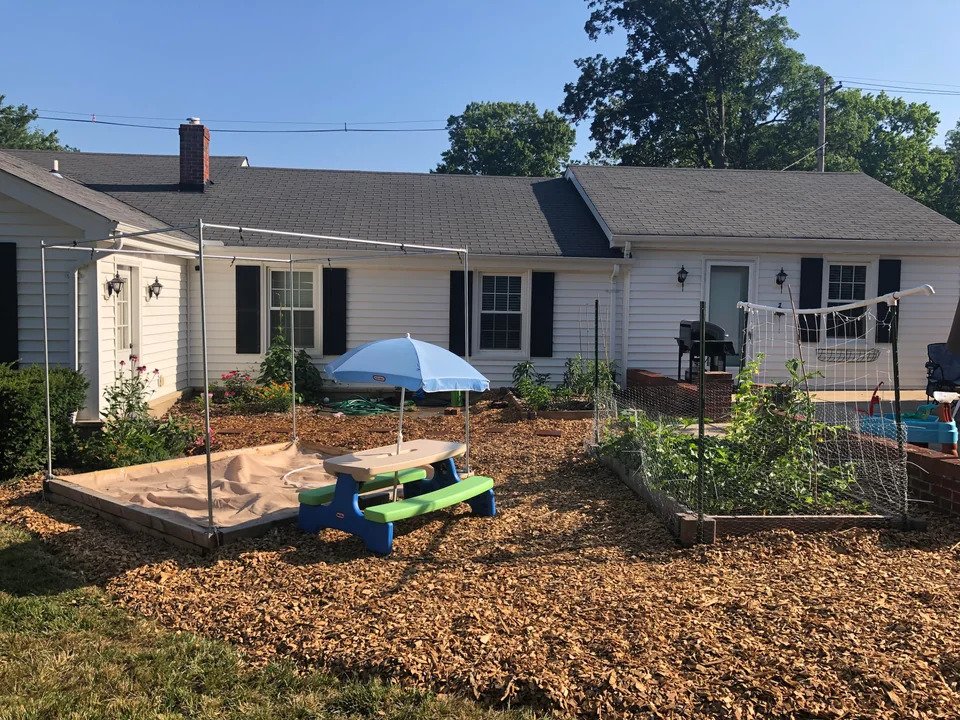 "I sheet-mulched about 880 square feet and replaced it with a walking path, 8'x8′ covered sandbox, and two 4'x8′ raised beds," the Redditor explained in a comment.
One commenter was impressed with the Redditor's inventive sandbox.
"Woah, does the cover on the sandbox just raise up the poles and become a shade canopy? That is a seriously cool design," they said.
"It sure does, and thank you!" said the original poster, then shared a link to a Maker Pipe page describing exactly how they created the canopy-cover combo. According to their breakdown, the frame was made of EMT conduit pipe, while the cover itself came from Amazon and was secured with parachute cord.
The Reddit commenter also asked, "What is the deep green plant you have by the house where the water hose was in the first picture? I can't see much but it looks pretty."
"The deep green plant by the hose was a moonflower," the original poster replied. "I plant annuals there now."
Join our free newsletter for easy tips to save more, waste less, and help yourself while helping the planet.