Thrift stores are known for being great spots to find clothing deals, but shoppers can find more than just fashion. One Redditor scored a highly valued cookware set for just $55.
The post shows a photo of the cookware set — four pots from Le Creuset in a beautiful Caribbean blue color.
"It's heavy duty enameled cast iron made in France and it has a fantastic lifetime warranty. I also found a skillet," the Redditor wrote.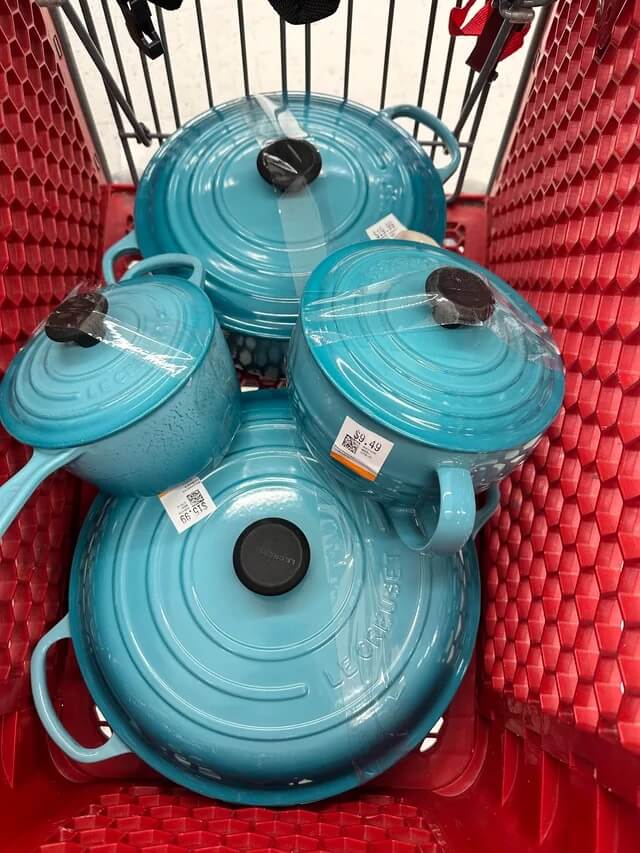 Just one five-quart Le Creuset pot retails for more than $400, and the comments mentioned that this set retails for more than $1,200. The best part? This Redditor isn't the only one to find this type of deal.
Another Redditor found a Le Creuset cast-iron Dutch oven for just $10. Others have found a variety of kitchen items for much less than they'd sell for in the store, including a $500 KitchenAid mixer for just $10 and a pair of All-Clad D5 pans for just $11 instead of the usual $250 each.
Shopping for your kitchen supplies second hand is the perfect way to find high-quality, long-lasting kitchen items without breaking the bank, especially for college students or young adults.
Plus, shopping second hand is a great way to help out the planet. Many pots and pans have a chemical nonstick coating and are made from a variety of metals, making the recycling process complicated. Kitchenware should be taken to a recycling center when it's no longer usable.
Plus, high-quality kitchen items can last for a shockingly long time, even if purchased second hand. One Redditor referred to the pots as "heirloom cookware" and advised that they could be passed down through generations.
Other commenters were stunned by the find, "You have officially leveled up to thrifting goddess," said one Redditor. Another added, "I don't even cook and I gasped just at the sight of this."
Join our free newsletter for easy tips to save more, waste less, and help yourself while helping the planet.