In the U.S., most homeowners have a yard with a lawn. But with increasing drought in parts of the country, especially the West, how sustainable is this?
A post on the popular Reddit community r/NoLawns displays pictures of a lawn made up of mostly rocks with some scattered plants.
"My yard is very shady and grass couldn't grow. So instead of forcing it I brought in native rocks and stones to frame the yard and a bunch of plants. Still a work in progress."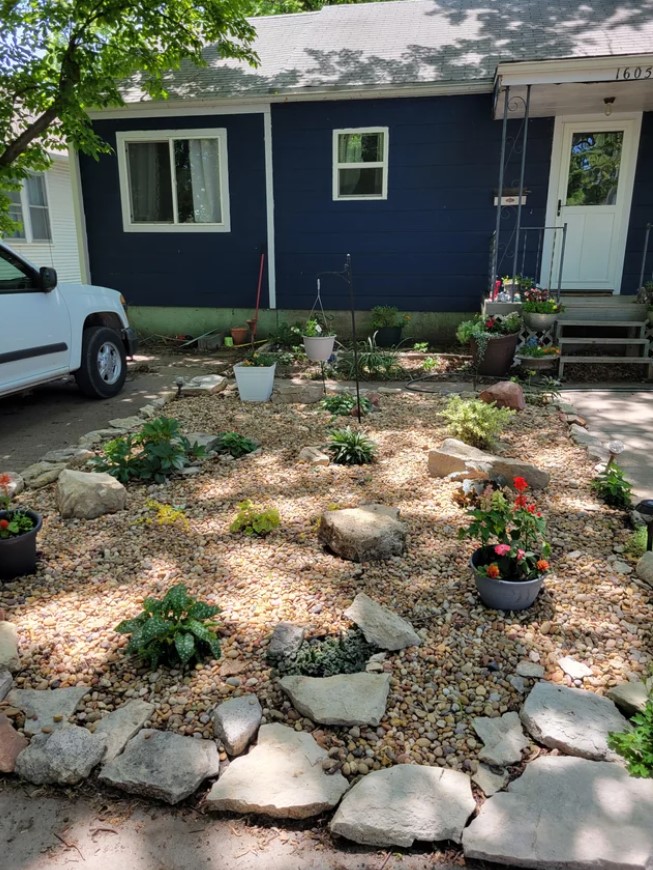 There is a positive aspect to having a grass lawn. For one, they can help remove planet-warming gases, like carbon, from the air. That is, of course, if we compare them to cement, which has no positive effects on the environment and the air we breathe.
But lawns can be environmentally damaging in numerous ways. They require lots of water; according to some estimates, to keep the nation's lawn surface areas healthy and well-watered in all the lower 48 U.S. states, we need about 200 gallons of fresh drinking-quality water per person daily.
Lawns also require lots of resources. To have a grass lawn, you also need to use a lot of fertilizer, pesticides, and herbicides, which are made up of toxic chemicals and often end up in groundwater and runoff water and can eventually affect humans and animals.
These chemicals have even been known to cause cancer.
Lawns also require the frequent use of lawn mowers, which release gases that pollute the air and warm the planet.
Having a lawn made up of mainly rocks instead of grass can have numerous benefits. Aside from helping the environment, rock lawns can save homeowners a lot of money since lawns without grass consume significantly less water and don't require the purchase of all those harmful toxic pesticides.
Redditors had plenty to say about the rock lawn, everything from "this rocks!" and "looks fantastic!" to interesting recommendations, like adding "a waterproof liner under your rock substrate" to create "a very swallow splash area."
The same commenter recommended adding "some small deep pockets for plants and fish," though they admitted this is "easier said than done!"
Indeed, having a rock lawn can be more exciting than many homeowners would have previously believed.
Join our free newsletter for easy tips to save more, waste less, and help yourself while helping the planet.