This thrift store haul will have you checking your eyesight — you won't believe the skirted armchair makeover.
Forget rugs — a gorgeous chair ties the room together, as a Redditor recently proved when showing off their new-to-them vintage orange chair scored at a local thrift store.
"Found this beauty for $20 yesterday," the poster captions the series of photos that show a before image and two more photos "after some love."
The chair is barely recognizable from its original state. It looks like it underwent a deep steam clean to show off the texture and colors of the chair's fabric. But what really makes it pop is that the Redditor removed the chair's skirt to show off its tapered legs, giving the statement piece a more modern look and feel.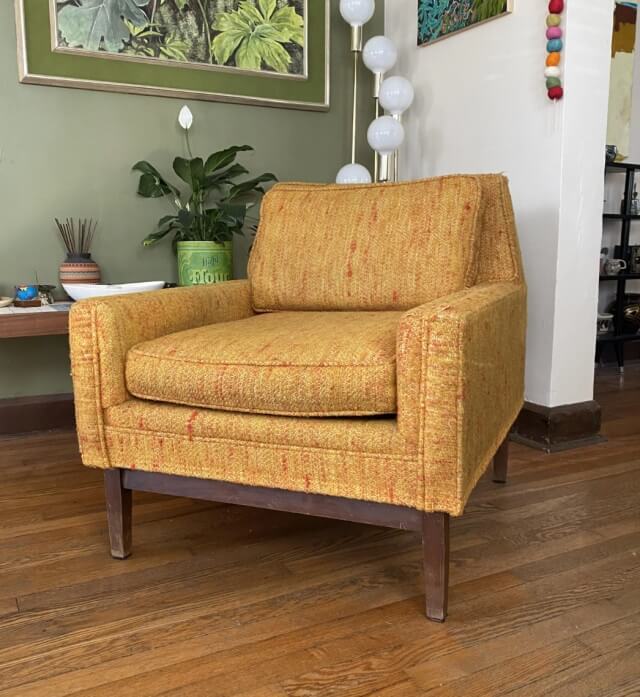 Secondhand furniture shopping can be a huge thrill, especially for vintage furniture lovers. It can also save you significant money compared to purchasing new items or those restored and sold in antique stores.
One Redditor recently found a couch in pristine condition for less than $200. And this vintage dresser a user found for $100 is another prime example of a valuable secondhand score.
The Reddit thread on this chair makeover was full of encouragement.
"I saw someone on TikTok do this with a couch and I can't believe the difference it makes," writes one user. "I would've never consciously thought to do it, but seeing the before and after it seems so obvious!"
Another Redditor agrees. "Looks great," they write. "Taking the skirt thing off of the bottom makes a huge difference, I'll have to keep that in mind."
One Redditor offers up a useful tip on the piece of fabric removed during the restoration. "Keep the skirting for fabric repairs," they write.
Join our free newsletter for easy tips to save more, waste less, and help yourself while helping the planet.