Lawn transformations may take some dedication, but as one Redditor showed, it's totally worth it.
Over the course of five years, the Redditor managed to turn their father's cookie-cutter, struggling green lawn into a thriving garden full of various blooming plants, mulch, and just a bit of leftover grass.
The photo was posted on the thread, r/NoLawns, where Reddit users highlight their work to escape the cookie-cutter grassy yard look by dispersing plants and native flowers throughout the space. Some use raised garden beds to do this, others plant right in the ground, and others use a combination of the two.
Some of the plants that brought this Redditor's space back to life included echinacea, catmint, iris, aster, peonies, wooly thyme, and more.
Though it was a lengthy process in this case, the Redditor says it was totally worth it.
Despite some of the plants they chose being a bit high maintenance, they wrote, "[This is] so much more worth the effort than a sad looking lawn that refused to stay green for all the water in the river."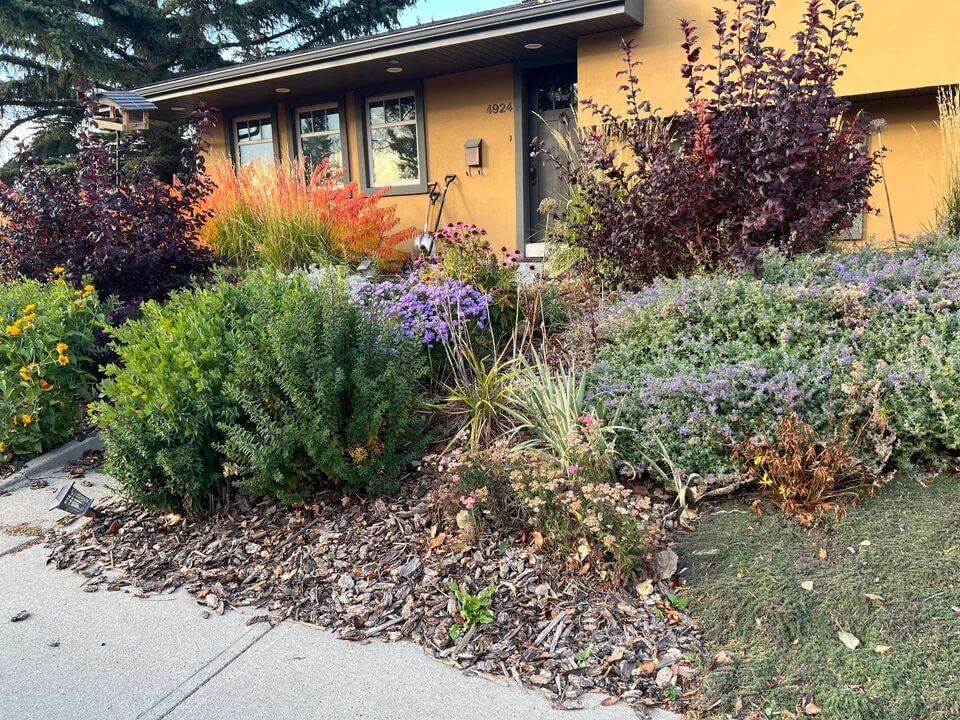 If you're struggling to keep your lawn looking lush and green, or even if you're just looking to change it up, this could be a great solution — and it doesn't have to be extremely expensive.
Native flowers can be purchased or found in natural spaces just outside of your home and be transferred to your yard in moderation. You can use propagation with stem cuttings to reduce your impact on the original area. With some mulch and perhaps some homemade decorations like a stone barrier, you can build something similar without an overwhelming amount of money or effort.
Plus, once you get everything set up, the upkeep won't be too stressful. Native plants have a tendency to survive better than non-native plants because they have already adapted to the environment. According to Eco Landscaping, most turf grass — that cookie-cutter, American dream-style grass — is not native to the United States.
This means that your grass requires more pesticides and fertilizer than anything native would, so planting these native species is easier on you and your wallet.
Plus, pesticides are known for having harmful chemicals that can spread through the soil, causing damage to plants and animals that they didn't intend to, and contaminating the water in your local ecosystem.
Commenters on the Reddit post were blown away by the end result.
"Absolutely gorgeous," wrote one.
"Total garden goals!" said another.
Join our free newsletter for easy tips to save more, waste less, and help yourself while helping the planet.