In May, a Redditor shared before-and-after photos of their incredible yard transformation, turning an ordinary lawn into an extensive garden.
The r/NoLawns subreddit features alternatives to expensive, high-maintenance grass lawns. It includes everything from stone and gravel landscaping to native plants, giving readers ideas for affordable, easy, and beautiful yard designs that are good for the environment.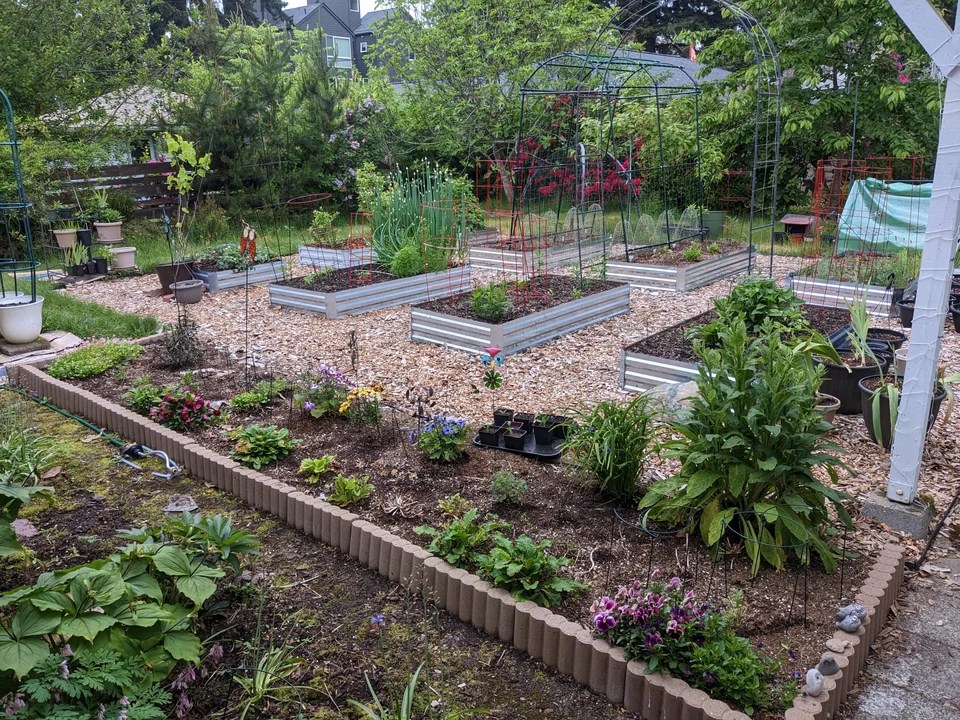 This user's vision for their yard included raised garden beds full of flowers and vegetables. But getting there was a long journey. In their post, they shared a "before" photo from January 2020 featuring an ordinary lawn covered in snow. There were no flowers or garden beds, just a few bushes around the edges and a simple concrete walkway through the middle.
The "after" photo was a different story, showing nine new raised beds surrounded by wood chip paths. The nearest bed was full of flowers, while the other eight held what looked like the beginnings of a huge vegetable garden.
Most of the plants were still small, but a patch of onions was well established and flourishing, and the bushes around the edges of the yard had grown tall and lush.
"The second [photo] is my work in progress," the original poster commented. According to them, the picture "includes raised beds, cedar chip pathways, plants in pots, and the small remaining bits of lawn I am still working on eliminating."
This kind of garden is a great way to save money; instead of watering a useless lawn, homeowners can enjoy delicious vegetables and beautiful plants. It also helps reduce pollution, since the less produce each person buys in stores, the less food needs to be shipped from distant farms.
Commenters congratulated the original poster on the payoff for their hard work. "It somehow looks twice as big!" said one user.
Another commenter asked, "May I ask what your garden containers are?"
The original poster replied, "The beds themselves are galvanized beds from Amazon. I started with layers of cardboard, staked chicken wire down, then placed the beds and added a few inches of wood chips inside, then raised bed soil. I add compost to the top layer every year and mulch with straw for water retention."
Homeowners hoping for a similar yard transformation quickly can work with Yardzen to create a beautiful, low-maintenance garden design.
Join our free newsletter for easy tips to save more, waste less, and help yourself while helping the planet.