An anti-lawn Redditor recently shared a screenshot from Twitter, where an HOA-loving homeowner hilariously complained about his neighbor's yard.
The post appeared on r/NoLawns, a subreddit whose users opt for beautiful, practical, and low-maintenance alternatives to traditional lawns. Many users have traded horror stories about fighting their HOAs' lawn requirements, so sympathy for homeowner associations (HOAs) is scarce.
Twitter user Nick Huber (@sweatystartup) seems to feel differently.
"This is what you get without an HOA," he tweeted, sharing a photo of a neighbor's yard. "We have one place in our neighborhood that isn't governed by the HOA and this is what we get as a neighbor."
Despite Huber's dramatic complaints, the yard in question seemed rather tame. It's unclear whether his biggest problem was with a small pile of trash in the driveway, a sign expressing political views like "Black lives matter" and "science is real," or the yard full of thriving wildflowers.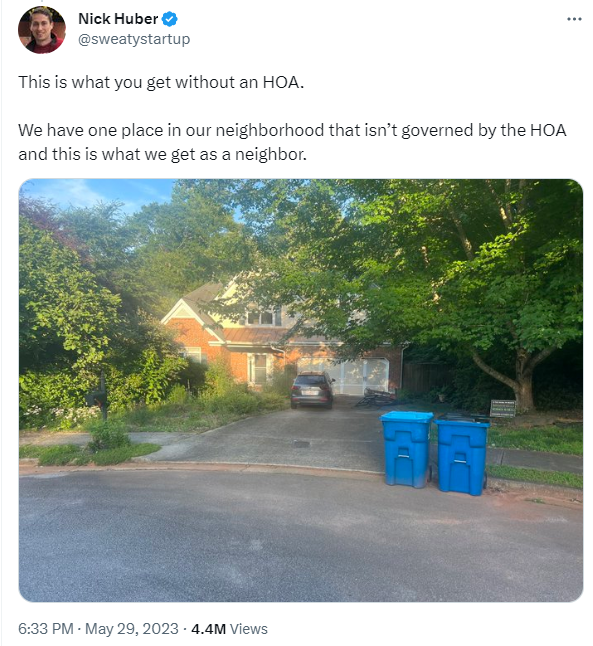 Regardless, r/NoLawns users were not on Huber's side. "Oh the horrors of not being told what to do with your front yard by an HOA," said the user who shared the tweet.
"Wow is he serious?" asked one commenter.
Another Redditor replied, "Looking at his other tweets, yes. In that thread he gets a lot of replies hating on HOAs and telling him to mind his own business. He doubles down."
The Redditor then shared a link to another one of Huber's tweets, in which he complained that "Broke people shouldn't buy in an HOA."
However, avoiding HOAs has gotten harder in recent years. The Homeowners Protection Bureau estimates that more than a quarter of Americans live in an HOA, a sharp increase from 40 or even 20 years ago.
Those like Huber's neighbor who are lucky enough to avoid HOA restrictions have the opportunity to save money by tailoring their yards and homes to their needs.
For those who live inside an HOA, however, it can be difficult to make changes to the property while following the HOA's rules. Companies like Yardzen can help homeowners create an affordable, low-maintenance landscaping design that still meets all local requirements.
Join our free newsletter for easy tips to save more, waste less, and help yourself while helping the planet.