There's nothing like a seaborne advertisement to highlight a day at the beach.
A Reddit user shared a photo of just such a floating atrocity last year.
"We can't even go to the beach without people trying to sell us stuff," they wrote. "They seriously were out here advertising for patio furniture a minute ago."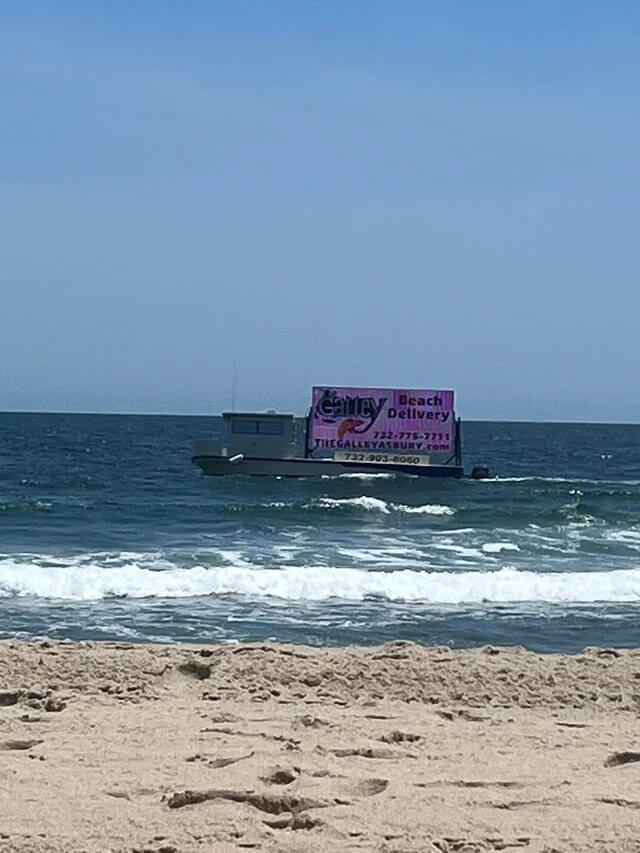 The offender was The Galley, a restaurant in Asbury Park, New Jersey.
"We should ban advertisements at public spaces," one commenter said.
These floating billboards and similar beach-based bulletins — including for 7-Eleven products — have been a nuisance in Miami and other Jersey Shore cities. Not only do they take away from the experience, but they also pollute the environment.
Boats can spill or discharge gas, oil, and waste into bodies of water, and chemicals used for their maintenance and repair can reach waters via runoff, according to the National Oceanic and Atmospheric Administration.
Vessels also produce carbon dioxide, so much so that the shipping industry would be the sixth-largest such polluter if it were a country, GoDownsize reported.
Even personal watercrafts increase air pollution and smog more than other vehicles, affecting water and sediment quality and entering the food chain, according to the American Boating Association.
But at least one can argue that reasonable use of personal watercrafts qualifies as enjoying and appreciating life and nature rather than turning it into a billboard. The bigger problem here is the utter pointlessness of a boat doing nothing but advertising products.
Those who complain about the unsightliness of offshore wind farms could consider trading these floating abominations and the aggravation they create for turbines that do serve a valuable purpose. One project down the Garden State coast near Atlantic City will generate clean energy for nearly 400,000 homes.
A couple of commenters noted similarly disruptive advertising techniques.
"I hate the planes that fly along the shore with banner ads," one wrote. "So obnoxious."
Another said, "I've long believed one day when we are all dead and gone the right to spaces free from advertising will be recognized as a basic human right."
Join our free newsletter for cool news and cool tips that make it easy to help yourself while helping the planet.