A little bit of knowledge can go a long way, and that is especially true when shopping at your local thrift store.
Sometimes, people don't know the value of what they are throwing out, and thrift store staff don't always know what they are pricing up. But if your interests align with the shop's inventory, you could pick up a bargain.
That's just what happened to this Redditor, who found a stunning piece of glassware for a fraction of the retail price.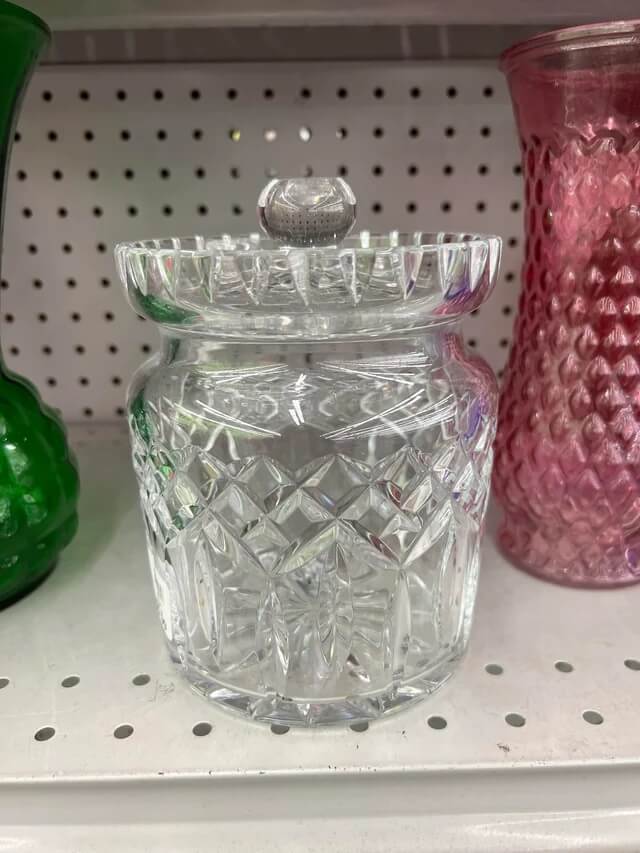 "Presenting the fanciest cookie jar in the world. Waterford crystal biscuit jar. For $5.99, I did indeed bring it home," they captioned the post.
According to Waterford's website, the Lismore Biscuit Barrel sells for $300, making this a simply astonishing find that would otherwise have cost our eagle-eyed buyer 50 times as much.
"This is GORGEOUS!" said one commenter.
"I am very jealous," added another.
Meanwhile, one Redditor was curious as to how they were able to identify the item before grabbing it and bringing it home.
"So I have an unusual brain. It remembers things like hallmarks, patterns, symbols, and (in the case of leaded crystal) light reflectivity," the thrifter and Redditor said. "Also, I have some Waterford crystal already and am familiar with the [Lismore] pattern."
In addition to picking up the occasional bargain, thrift shopping can be hugely beneficial for the environment.
For example, this crystal glassware, or other similar items, could have just been thrown out at the end of use, taking up space in landfills that produce significant amounts of methane — which is one of the most potent planet-heating gases.
And when it comes to clothing, picking up pre-loved garments reduces the demand on the fashion industry, which the Geneva Environment Network notes accounts for 10% of humanity's carbon pollution, as well as using up freshwater supplies and polluting other water sources through dyes and microplastics.
It's certainly a win-win scenario for thrift shoppers, and our biscuit barrel buyer bagged themselves the sweetest of treats.
Join our free newsletter for easy tips to save more, waste less, and help yourself while helping the planet.