One Redditor just proved that a yard with no lawn can be breathtaking with a few photos from their morning walk.
The anti-lawn movement is gaining momentum, especially in dry areas like Arizona and California, where this Redditor says they live. Other kinds of landscaping that use stone, mulch, and drought-resistant plants are easier to maintain and require less water, making them cheaper.
Some homeowners love to tackle these projects themselves, while others hire knowledgeable companies like Yardzen to transform a boring lawn into a low-water, low-maintenance paradise full of native plants.
Some homeowners and homeowners' associations (HOAs) worry that removing lawns means leaving front yards unkempt and ugly. But as this Redditor showed, that doesn't have to be the case.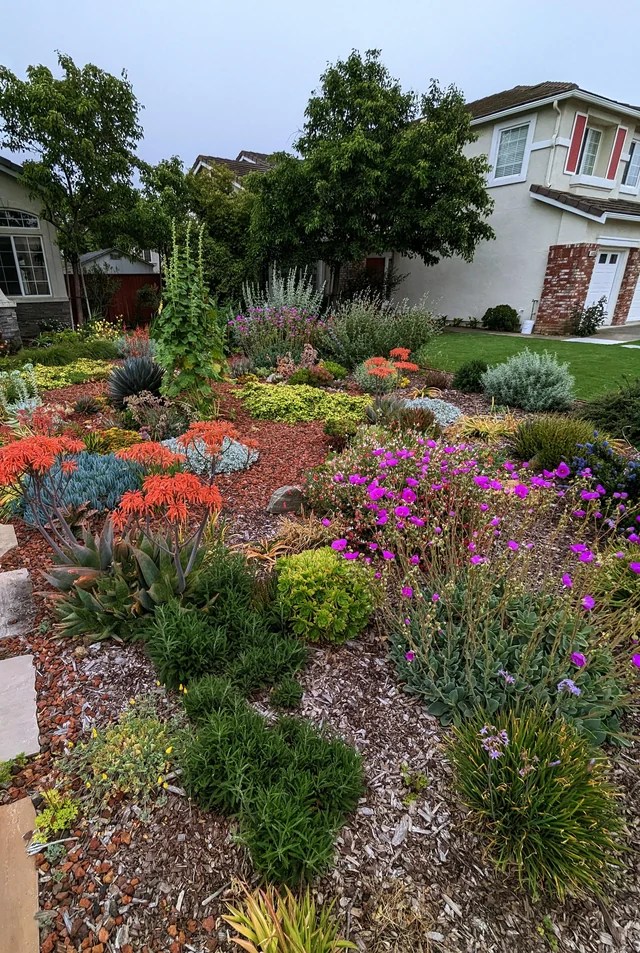 In a May post on r/NoLawns, they shared three photos showcasing an incredible front yard in their California neighborhood. "Beautiful no-lawn front yard in full bloom," they said.
The images showed an unbelievable rainbow of blossoms and foliage (that the user attributed to California's super bloom) against a backdrop of multicolored mulch and gravel. Pavers picked a delicate path through the garden to the home's front door.
In a comment, the Redditor identified California golden poppies, baby sage, jazz time, aloe coral, and a mix of succulents.
Besides being beautiful and easy to care for in California's climate, many of these plants are native flowers that provide food and shelter for local species, including pollinators. Growing them in a yard or garden is a great way to preserve native plants and the wildlife that relies on them.
Native and drought-hardy plants are also eco-friendly because they let you cut back on fertilizer and pesticides that can end up contaminating local water.
Reddit commenters were enthusiastic about the beautiful yard design. "Now THATS what I'm talking about! Love those kinds," said one user.
Another Redditor pointed out a low-maintenance feature that actually improved the look of the yard. "A perfect example as to why you don't need the same mulch color. It looks amazing."
Join our free newsletter for easy tips to save more, waste less, and help yourself while helping the planet.