We all dream of discovering treasure, right? One lucky thrifter really hit the jackpot when they scored 14-karat gold and pearl earrings for a truly shocking amount.
The Redditor took to the subreddit r/ThriftStoreHauls to express their excitement over the find.
"Found these beautiful 14k gold pearl earrings in the Lake District op shops today for [about $5]!" they wrote. "The stamp was so small I didn't see it until later this afternoon. Stoked is an understatement!"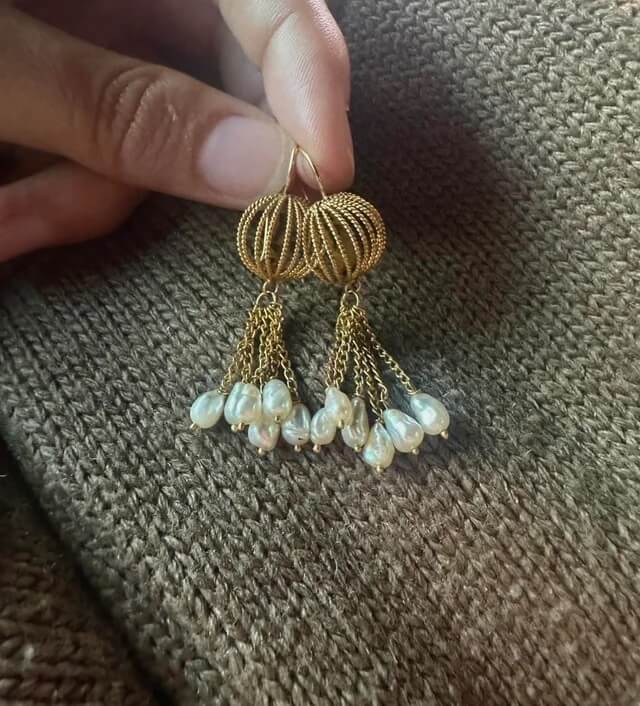 The poster explained that the stamp read, "BAO, 585, then a triangle and cursive B. From my understanding it's been stamped by the Birmingham assay office."
And they seem to be correct. The Birmingham Assay Office provides testing (assaying) and hallmarking of precious metals, like the gold in the earrings. All that is to say, the earrings are genuine 14-karat gold and have the stamp to prove it.
This lucky Redditor is just one of many who have scored truly impressive finds while scouring local thrift shops. From a $1,500 coat for $45 to a vintage Versace dress for only $10, savvy thrifters aren't just taking home amazing products for cheap, they're also helping out the environment.
According to one report, thrifting can save shoppers an estimated $1,700 over just a year's time. But aside from being an affordable way to fill up your wardrobe or home, thrifting helps cut down on the amount of new goods being produced around the world. Currently, the fashion industry accounts for 10% of the world's air pollution.
By acquiring items second hand, you're also saving them from potentially ending up in landfills. More than 100 million tons of textile waste ends up in landfills each year. And once there, many textiles take an incredibly long amount of time to break down, releasing methane as they do so.
"These are sooo pretty," one person commented. "I would have picked them up too. Good taste."
Join our free newsletter for easy tips to save more, waste less, and help yourself while helping the planet.