One Reddit user recently shared a series of photographs aptly titled "evolution of my wildflower patch," and the transformation is absolutely stunning. What began as a dull patch of dirt turned into a lush flower bed packed with vibrant colors.
Below the set of photos, the Redditor wrote: "April, mid May, beginning of June, end of June, today." The first photo is simply a patch of dirt surrounded by pavers. The second photo shows flowers beginning to come in, but few had bloomed. Most people would be satisfied with the number of flowers that had come in by the time the Reddit user took the third pic, and the fourth and fifth photos show flowers battling other flowers for space in the relatively small area.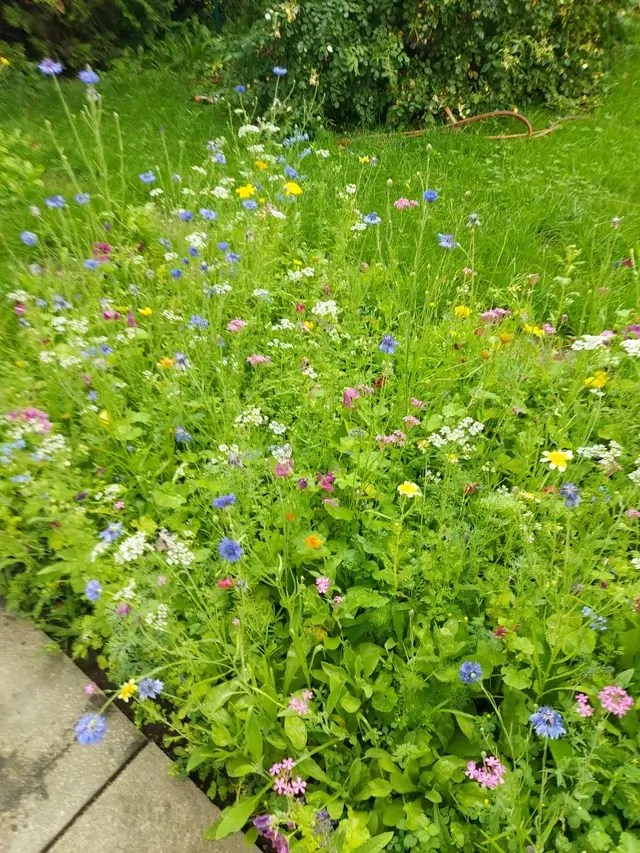 But this beautiful flower garden didn't come about simply by the Redditor throwing seeds onto some dirt. Replying to a comment, the Redditor explained that their landlords had hired a gardener "to revive the gardens" that had been ruined when the house was renovated, and the gardener had loosened the old soil and added some new. The Redditor then asked the gardener not to plant grass so they could plant seeds instead.
"So I think the loosened ground was important for the seeds," the Redditor said, "because they got swept underneath the soil with the first good rain shower."
The Redditor clearly knows the important role bees play in the environment, as they bought a mix of wildflower seeds specifically to attract them.
The most vital role bees play is as pollinators. Besides pollinating flowers, bees do so with fruits, vegetables, and wild plants. They also play a crucial role in the growth of different kinds of forests around the world, and plants of all sizes that depend on bees as pollinators act as shelter for all types of wildlife.
The Redditor might even spread the beauty.
"I am thinking about asking my university if they are okay with me making a small patch at a completely unused lawn," the Redditor said.
As for those looking to duplicate the look this Redditor achieved, they should know that the poster used "double or triple the amount of recommended seeds."
Other Redditors who saw the post were amazed by the transformation.
One Reddit user exclaimed: "A Lovely bunch!"
Another wrote: "I'm so jealous!"
Another Reddit user added, along with a heart-eyes emoji: "That is beautiful to look at!"
Join our free newsletter for easy tips to save more, waste less, and help yourself while helping the planet.