One homeowner working around a restrictive HOA shared their garden on Reddit after years of effort to perfect it.
The post appeared in mid-July on r/gardening, a community created to house gardening guides, pictures, and discussions from enthusiastic gardeners like this Redditor.
"It took four years but it's finally filled out," they said, sharing before-and-after pictures of their garden.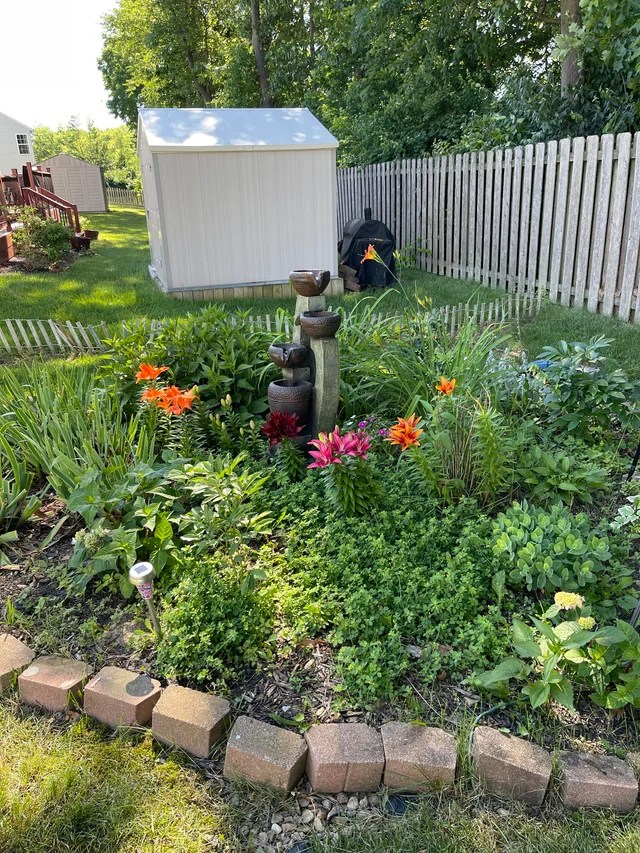 The "before" photo, taken at night, was lit by a few garden lamps. It showed an irregularly shaped garden bed with a brick border and several rows of young plants, plus a hanging basket and a few other touches that gave it personality.
"Created to cover up a place where an old shed collapsed," the original poster said, explaining the unusual shape of the bed. "My family makes fun of me because it has absolutely no plan, but I love it."
The more recent pictures showed a beautiful backyard oasis with a variety of blooming flowers. A bush at one end of the garden now reached several feet in height, and the gardener had added even more decor, including a hanging ornament and a small fountain.
Gardening is a great way to get fresh air, sunlight, and exercise, all of which boost physical health and mood, according to the Mayo Clinic. Garden plants not only look beautiful, but they also help produce clean, breathable air around your home. If you choose to grow vegetables, you can even cut back on your grocery bill while reducing the air pollution caused by shipping produce to your local store.
Unfortunately for this Redditor, they say they live in an HOA, which means they aren't able to do all the gardening they want in their visible front yard. However, they found a way to comply with the HOA's rules while still getting the plants they wanted: "Because it's in the back, the HOA can't complain," the original poster said.
Other homeowners struggling to work with an HOA can find information on changing their local association's rules in this handy guide.
This creative Redditor also managed to do their whole gardening project on a budget with the help of their friends and family. "Mostly plants from family and friends' gardens," they said.
Join our free newsletter for easy tips to save more, waste less, and help yourself while helping the planet.