The Natural Resources Defense Council released its fifth edition of the "The Issue with Tissue" report, and it airs the dirty truth about some of our most used personal cleaning products — specifically toilet paper.
Since its initial report in 2019, a lot has changed with the paper product, but the NRDC points out that perhaps the biggest change is the disparity between the "leaders and laggards."
While many sustainable brands have emerged in response to the tissue issue, the three biggest producers in the United States are still dragging their feet. Procter & Gamble, Kimberly-Clark, and Georgia-Pacific, who are responsible for brands like Charmin, Cottonelle, and Quilted Northern, perpetuate the system that wreaks havoc on the boreal forest in Canada and its inhabitants, threatened species, and carbon stores.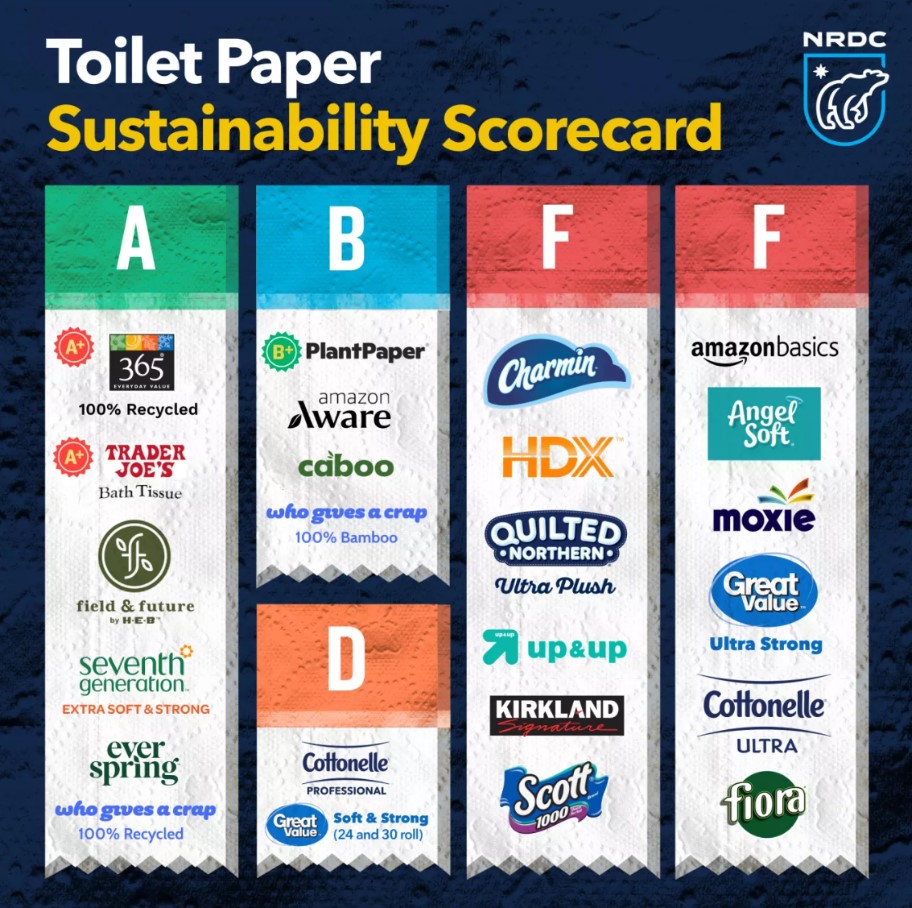 Shrink That Footprint reports that toilet paper has such a huge negative impact on our carbon pollution because 80% of manufactured toilet paper — including brands like Charmin, Cottonelle, and Quilted Northern — is made from virgin forest fiber.
A virgin forest is an old-growth forest that has never been logged. Trees in virgin forests are powerful carbon sinks that absorb vast amounts of planet-warming carbon dioxide. This makes them one of our biggest helpers in stopping Earth's overheating, and their loss is devastating for all of us.
A report by the Environmental Paper Network says that according to the UN Food
and Agriculture Organization, deforestation accounts for 25% of annual carbon pollution caused by human activity.
Shrink That Footprint further reports that an estimated 27,000 trees are cut down daily to make each ton of toilet paper. When the trees are cut down, not only is the carbon they are storing released, but there is also no longer a forest to absorb more carbon.
To add insult to injury, toilet paper is also typically packaged in plastic, a product of which about 40 million tons are thrown away annually in the U.S. Only about 5% is recycled, and the rest ends up in the ocean and landfills.
The point of the NRDC report is the importance of using recycled or more sustainable materials like bamboo for toilet paper and other paper products.
"By making toilet paper from ancient forests essential to the climate fight, tissue companies are flushing away our forests and our planet's future," said Shelley Vinyard, NRDC's Boreal Campaign Manager and co-author of the report. "Instead of exacerbating the climate crisis, companies like Procter & Gamble must take urgent action to create more sustainable products."
Join our free newsletter for cool news and actionable info that makes it easy to help yourself while helping the planet.