A Redditor sparked outrage recently with a video they posted from outside a Dollar General store showing a dumpster nearly full of frozen food that had been thrown away.
The video was headlined, "A Dollar General Market cleaned out there [sic] freezer section. It was painful to have to leave all of this."
The Redditor added the caption, "I grabbed a few things, but this is just sad …"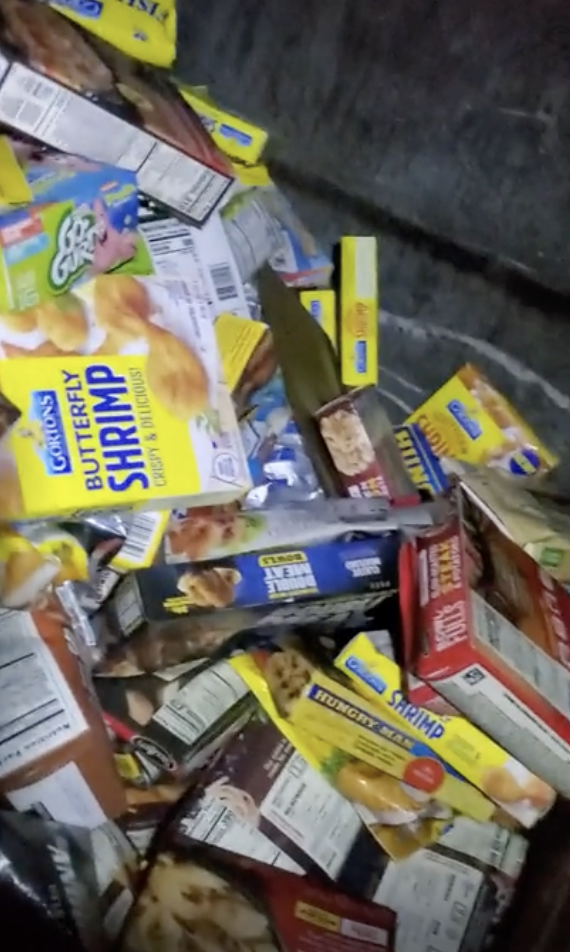 It's no surprise that people are outraged to see so much wasted food, but this is a common practice despite the level of hunger in this country. About 30% of food in American grocery stores goes to waste, generating about 16 billion pounds of food waste every year, per Recycle Track Systems (RTS).
But food waste begins well before the grocery stores. Up to 40% of food produced by farmers worldwide is never consumed due to a wide range of factors, reported Earth.org, including the type and quality of the crop, the market price, and consumer demand.
This is disturbing because over 34 million Americans face hunger, or at least some level of food insecurity, every single day, including roughly nine million children, according to the U.S. Department of Agriculture, reported by Feeding America.
The U.S. wastes more food than any other country on the planet: nearly 120 billion pounds every year, per RTS. That's almost 40% of the entire U.S. food supply. While it's unfortunate that retailers are responsible for 16 billion pounds of waste, homes are responsible for nearly 42 billion pounds, per Feeding America.
Further, this immense amount of wasted food has negative effects reaching beyond those who go hungry every day in this country — there's also a negative effect on the environment.
When food goes to waste, the extensive amount of production, processing, transportation, and more also goes to waste, and each step along the line contributes to pollution that is harmful to the environment. Once that wasted food gets to the landfill, it breaks down, releasing toxic planet-warming gases into the atmosphere.
Commenters on the video shared the poster's upset.
One commenter posted, "Whyyyyyyyy did they have a freezer break? Wtf this waste needs to end; so so sad."
Another commented, "Painful to watch, wow."
Join our free newsletter for easy tips to save more, waste less, and help yourself while helping the planet.