Introducing the limited edition Package Free x The Cool Down Kit. When it comes to a no-waste lifestyle, no one does it better than our friends at Package Free, which is why we partnered with them to curate a collection of their best-selling sustainable products at an amazing price (MSRP is $89, full retail value is $133).
The Cool Down may receive a commission on purchases made through links on this page at no cost to you. Price and availability are subject to change. Learn more about our Product Mission here.
Why It's Cool

This limited-edition, no-waste kit includes a selection of Package Free's best selling items: a co-branded tumbler, a reusable Swedish dishcloth, a plastic-free dishwashing brush, a copper scrubber, shampoo and conditioner bars, a bamboo toothbrush, and a reusable silicone sandwich bag. 
$89 (full retail value $133)
This intro kit takes the guesswork out of going green by providing you with a selection of the most sustainable and effective versions of the products you use daily. Swapping to these earth-friendly alternatives helps cut down on the amount of harmful plastic in the environment and is a powerful way to tackle our planet's most pressing issue: climate change.
This kit is a limited edition collection and includes an exclusive TCD tumbler. It makes the perfect gift for anyone (including yourself) regardless of where they are on their sustainability journey.
1
Package Free x The Cool Down Tumbler
Why It's Cool

With the insulation this tumbler offers, it's bound to keep your coffee hot and smoothies cold all day long. Plus it is an exclusive The Cool Down branded product — doesn't get cooler than that.
2
Package Free Reusable Swedish Dishcloth
Why It's Cool

Save money on single-use paper towels AND help the planet by using these Swedish dishcloths. Just one cloth is equivalent to 17 rolls of paper towels — now that's a massive impact.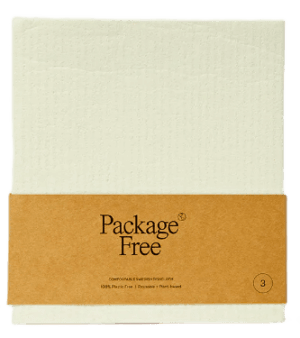 3
Package Free Dish Washing Brush
Why It's Cool

Did you know that most sponges are made from materials derived from petroleum? Ditch the traditional sponge and opt for this wood-based dish brush.
4
Package Free Copper Scrubber
Why It's Cool

For cleaning those tough-to-scrub dishes, look no further than this 100% recyclable copper scrubber, the easiest kitchen swap you'll make!
5
Package Free Shampoo Bar
Why It's Cool

Made without parabens, sulfates, artificial fragrances, or the plastic packaging of traditional shampoo, this bar is sure to become a shower staple.
6
Package Free Conditioner Bar
Why It's Cool

With this conditioner bar, you don't have to choose between what is good for your hair and what is good for the planet — you get both in one 100% recyclable package. An added bonus, conditioner bars last 2-3x longer than conventional conditioners.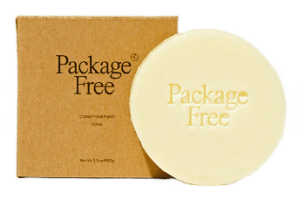 7
Package Free Bamboo Toothbrush
Why It's Cool

The OG sustainable bathroom swap: Bamboo toothbrushes are a plastic and BPA-free way to keep you brushing in sustainable style.

8
Package Free Cotton Rounds
Why It's Cool

These reusable GOTS certified organic cotton rounds are a sustainable bathroom staple. They are perfect for applying makeup remover or toner.
Follow The Cool Down on Instagram and subscribe to our newsletter.