A Chicago couple decided to take the day to clean their city while listening to audiobooks and talking to strangers.
They posted a picture along with a brief description about their experience in the Reddit community r/DeTrashed, which describes itself as a group that is "saving the only planet we'll ever have."
"My partner and I spent the afternoon cleaning up Chicago! We popped in some headphones, listened to audiobooks, and got 7 full trash bags. Met lots of nice people along the way," they wrote.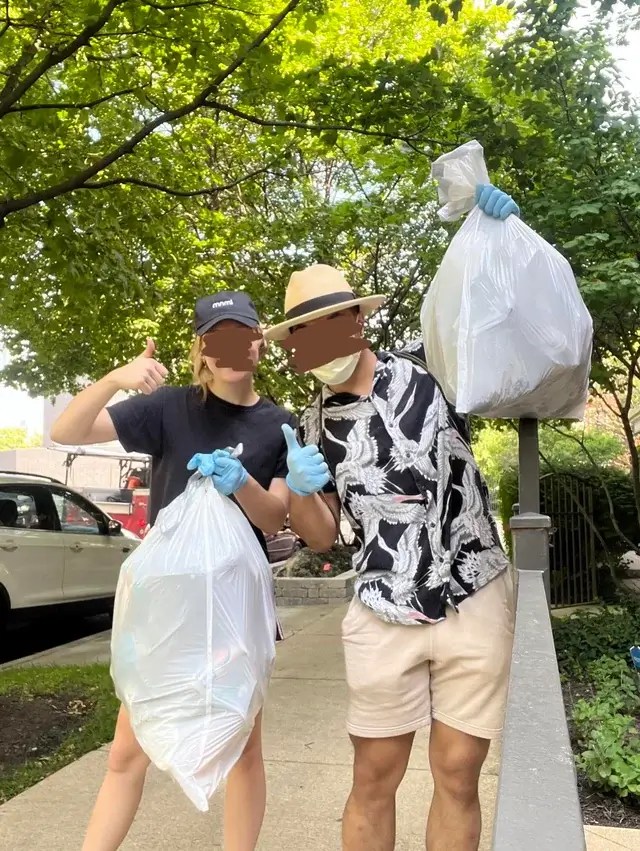 The picture shows the couple holding bags of what appears to be trash that was picked up along the streets and sidewalks. Both of the trash collectors are giving a thumbs-up as kind of a "mission accomplished" gesture.
American households produce nearly 300 million tons of trash each year, or about 5 pounds of trash per person daily, per the U.S. Environmental Protection Agency.
A significant portion of this waste comes in the form of plastic, of which only around 5% actually gets recycled.
Five years ago, the Better Government Association reported that Chicago has the worst recycling rate when compared with other cities in the U.S., with a rate of less than 9% of all residential waste collected by the city.
Trash that doesn't get recycled often ends up in landfills, where it may end up getting incinerated and released as harmful gases into the atmosphere.
In the U.S., around 29 million tons of garbage is incinerated each year, according to the U.S. Energy Information Administration.
Picking up garbage around your local area is always a positive step, but making sure that trash is properly disposed can be of equal importance.
Let's hope this Chicago couple separated the recyclable items from the trash they collected and disposed of them correctly. Even if they didn't, it's still commendable that they made the effort to clean up their neighborhood — every little bit helps.
Redditors loved the effort put forth by this couple.
"South side everywhere needs help," one person said.
"Good job!" another expressed.
Another offered some extra praise by expressing how they "love meeting random people while picking. It's the bonus! Thanks for cleaning."
Join our free newsletter for cool news and cool tips that make it easy to help yourself while helping the planet.