One Reddit user is showing the internet how easy it can be to transform a sad lawn into a space that is welcoming, lush, and ecologically vibrant.
The photo, which was originally shared on the r/gardening forum, shows the transformation from a barren, dried-up lawn with a few small plants on the border to an amazing backyard paradise.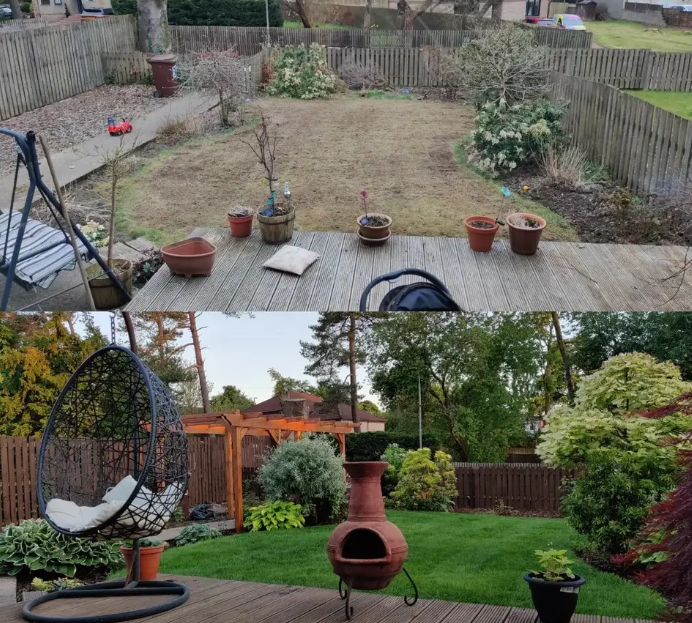 As the post indicated, the homeowner was able to transport their space to a new planet with "a lot of hard work" and three months' time. The new space includes a pergola, swing chair, and lush plants of varying heights.
In the comment section, the poster explained that their mix of shrubbery included plants like roses, lavender, honeysuckle, jasmine, sunflowers, and lilacs. Not only do these plants create a wealth of biodiversity and ecologically-active space for pollinators, like bees and butterflies, but it also splits up the visual monotony of looking at a plain grass lawn.
Since these plants are varying heights, they can shield low-level shrubs and ground plants. This shade decreases the moisture loss via evaporation, thus making the lawn more conservative of water use — and easier to maintain.
One of the most impactful parts about this Reddit post was that the user was able to transform the space into one that was not only thriving with life but also one that was welcoming and designed for outdoor activity. Unlike a plain, grass lawn, the yard contains diverse structures and functions that make a space ideal for entertaining and genuinely enjoying nature.
Many commenters noted how they aspire to have a lawn like the original poster.
"We're getting ready to buy our first house and i'm actually so excited to remodel a backyard like this! beautifully done," one user shared.
Other users appreciated the functionality and welcoming vibe the space gives. "Bravo! When's the party and what can I bring?" one user posed.
Join our free newsletter for easy tips to save more, waste less, and help yourself while helping the planet.