One Redditor shared before-and-after photos of treasures they made from trash to show the internet just how easy it can be.
"I've always enjoyed the 'trash to treasure' lifestyle," they said.
"For anyone who has access to disposed furniture, I recommend buying yourself a durable orbital sander, some simple stain/paint, and learn how to refinish furniture," they said in the post, which appeared in r/Frugal. "I'm sharing a few examples of my trash finds that have turned into home staples."
In the "before" images, the furniture was in terrible shape — some pieces were lying in the trash where the Redditor found them. "Some of these were in really rough condition and required some 'vision' to look past the flaws," they said.
But, as the original poster pointed out, each piece had good bones. "Generally, if it's solid wood, you can work miracles on it," they said.
That's well worth doing since new wooden furniture adds up fast. Plus, the more items you can rescue from the trash, the fewer end up in landfills — and, as this Redditor demonstrated, many of these pieces still have years of life in them.
One battered shelving unit in the photos had varnish that was peeling around the edges. The original poster refinished it with black paint and set baskets on each shelf for storage.
A second ancient cupboard with sliding louver doors was more tricky, but once the original poster removed the doors and painted the piece forest green, it became an attractive cocktail bar.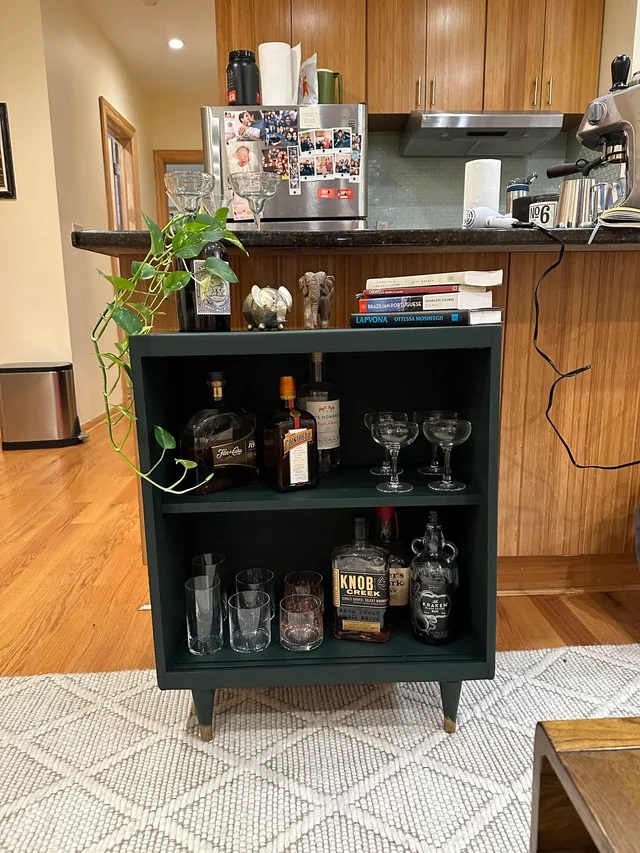 One incredible end table was hardly damaged at all, just a little dull. With a new coat of finish and a couple of potted plants, it became a classy addition to a comfortable living room.
"My favorite find was the coffee table that was heavily paint stained," said the original poster, referring to the first item in the photos. "I knew immediately it was a Lane Acclaim, and was baffled that someone would throw it out."
A little work revealed a charming table with a dovetail design at each end. "I was able to use it for a bit before giving it a new home for several hundred dollars," said the original poster, who added that they sold the table to make room for more projects.
"Beautiful work!" said one commenter. "And you probably have better quality furniture compared to what you buy new in many stores these days. Thanks for keeping those treasures out of the local landfill!"
"Absolutely gorgeous!" another person exclaimed.
Join our free newsletter for easy tips to save more, waste less, and help yourself while helping the planet.