Maintaining your lawn can be tedious work, although this Redditor doesn't seem to mind.
A post on the popular Reddit community r/NoLawns shows before-and-after pictures of a lawn that was transformed with native plants.
"Before/After: 6 years of replacing lawn and ivy with natives. This looks amazing," the Redditor wrote of the lawn, later telling The Cool Down that the design was by KylinArts in Philadelphia.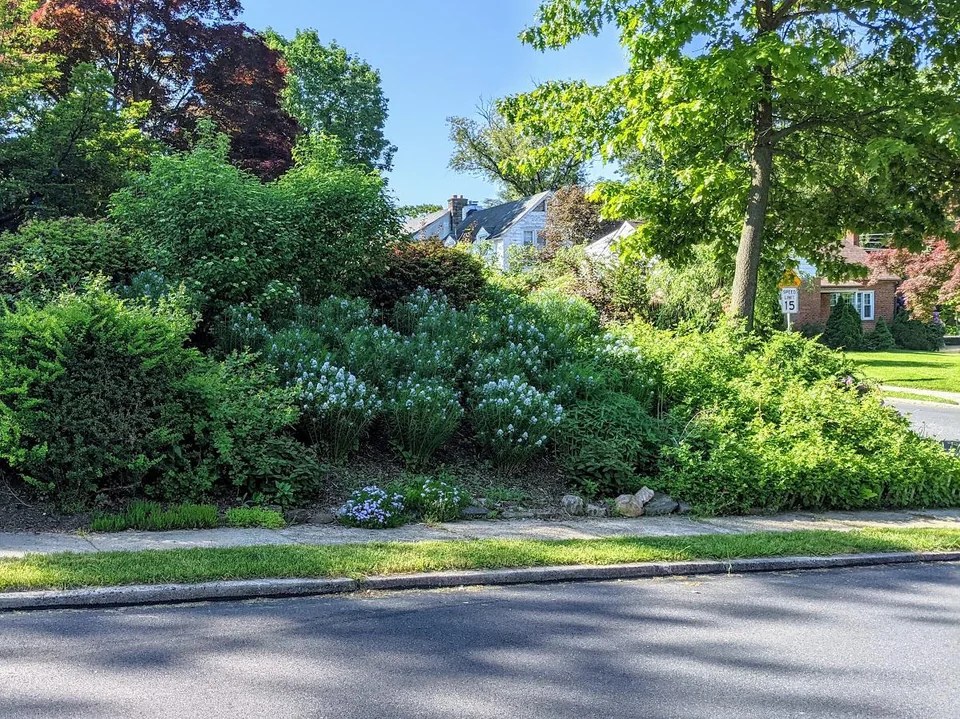 Having a traditional lawn can have some benefits. When compared to cement, grass lawns are better at removing planet-warming gases, like carbon, from the atmosphere.
But when compared with native plants and trees, traditional lawns use up lots of water. In fact, some estimates show we need about 200 gallons of water per person daily to keep our lawns growing and green.
To keep lawns looking nice in the long term, we also need fertilizer, pesticides, and herbicides that are made up of toxic chemicals that can end up in groundwater and runoff water and eventually into the bodies of humans and animals.
Such chemicals have also been linked to cancer.
Keeping grass short and well-kept also requires lawn mowers, which pollute the air and make lots of noise every time we use them, scaring animals like squirrels, birds, and other wildlife.
They also cost us money in the form of the lawn mower itself, fuel that needs to be regularly purchased, and maintenance.
By replacing your lawn with native wildflowers and other plant life, you will almost never need to mow your lawn, nor will you need to water it nearly as frequently.
Native plant species will also attract beneficial insects, birds, and butterflies to your outdoor property, and they don't require all the toxic pesticides and other chemicals that regular lawns need to thrive.
Commenters seemed quite happy for the Redditor with the new lawn.
"Don't forget that the leaves smell delightful and turn an amazing shade of crimson in the fall," one wrote.
"Absolutely beautiful! I bet you get a lot of birds living in that low foliage," another added.
If creating your own native lawn paradise is an overwhelming task, let a company like Yardzen do all the hard work, so you can just sit back and enjoy the view.
Join our free newsletter for easy tips to save more, waste less, and help yourself while helping the planet.