Gardening comes with a bit of a learning curve. From the outside, it might look like you simply plant things in the ground, and they grow. But flowers, trees, vegetables, and shrubs all have their own needs and ideal conditions to thrive.
You've likely seen the base of tree trunks piled up with mulch in other people's gardens or in public spaces. People likely do this with the best intentions, but doing so could have negative consequences.
The scoop
One Redditor took to the platform to break down the potential problems with what they call "mulch volcanoes." They shared an example of a young tree with a mound of mulch around the roots and piled high against the trunk.
"Mulching your tree like this increases the temperature and water retention around the roots," they said in the r/YouShouldKnow subreddit. "This aids in the growth of fungi and bacteria that can kill the tree. It also provides a good home for rodents that will chew through the roots of the tree and cause serious damage to it."
The Redditor went on to advise that mulch should instead be evenly spread around the base of the tree.
How it helps
Providing an even layer of mulch at the bottom of the tree gives the roots an opportunity to breathe.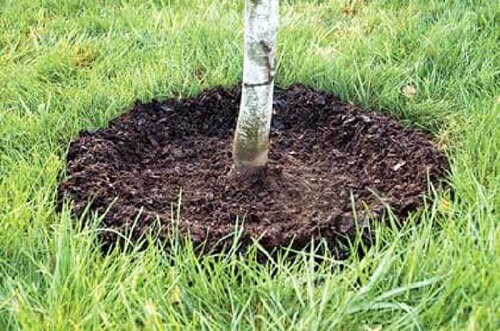 Furthermore, since mulch absorbs water, piling it up against tree bark can cause damage to the tree's protective layer. Bacteria or invasive species, then, could get inside the tree and lead to blackened leaves, a lack of leaf growth, or even the death of the tree.
What everyone's saying
Commenters weighed in with their thoughts on mulch volcanoes.
"My understanding is that this type of mulching is mainly used for winterizing trees to protect roots from the cold. Not a good idea in Spring/Summer obviously," one commenter noted.
"Anyone that has professional landscapers has that happen to their trees," another observed.
The Redditor also shared a couple of useful resources. GreenPal notes that you can try to repair an overmulched tree by removing the mulch to expose the flare of the tree.
Meanwhile, Richmond Tree Stewards claims that forming a "mulch donut" with the trunk at the center is the way to go, ensuring the mulch doesn't touch the tree itself.
Join our free newsletter for easy tips to save more, waste less, and help yourself while helping the planet.