One Redditor took to the subreddit r/NoLawns to share their creative and stunning front yard.
The catch? It barely involves any grass, and they don't even have to mow it.
The trend has a variety of names, from no-mow yards to no-lawns, but it's all the same concept — replacing traditional grass yards with alternatives like native plants, shrubs, mulch, and even patios with some greenery.
The Redditor's no-lawn featured a wide variety of colors and plants, fitting together so seamlessly that one commenter wrote, "Why did I think it was AI generated?"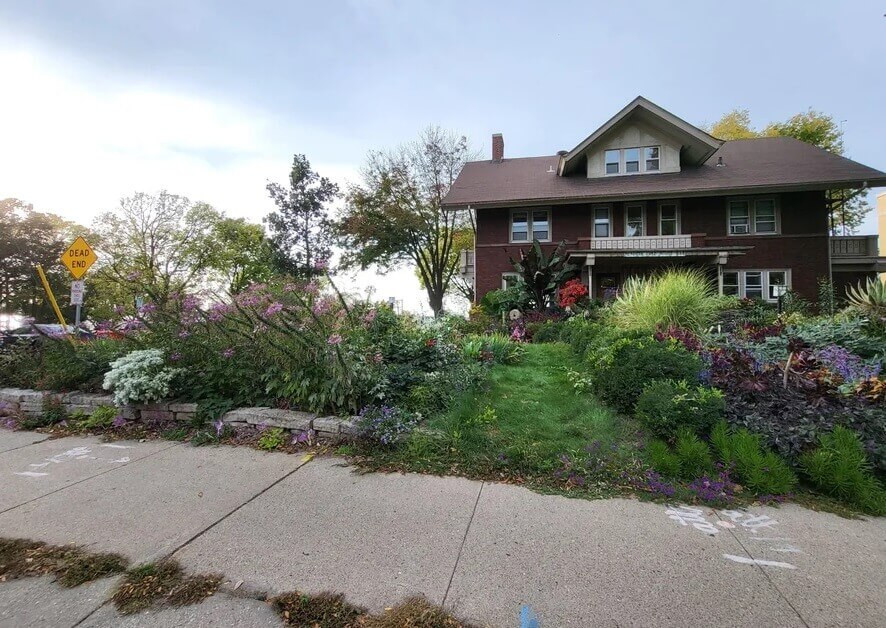 What's even better is that replacing your grassy yard with an alternative like this has a number of benefits.
For starters, you won't have to spend your Saturdays mowing the lawn anymore, and you won't have to waste money on grass seed, fertilizer, and pesticides. Native plants have a much easier time surviving than non-native grass, so they won't require as much effort or supplies to maintain.
Plus, if you really want to do things on a budget, the company Chip Drop will deliver mulch for free, and you can collect local wildflowers to populate your yard.
For those who live in hotter climates, avoiding that perfectly short, manicured grass look will help to curb the heat in the summers too.
This low-maintenance style of yard is also fantastic for the environment. Keeping your grass alive with harmful pesticides and fertilizers that can wash into local waterways is expensive and causes harm to local wildlife.
Instead, having a yard full of native plants will benefit the local ecosystem by attracting pollinators — which are vital to humans and wildlife — and will act as food and shelter for local insects and animals.
Plus, you won't need an expensive lawn mower anymore, and that means getting rid of one gasoline-fueled machine that would otherwise be releasing planet-warming gases into the air.
The comments on the post couldn't believe how beautiful the yard was.
"That's an amazing garden," said one user, while another wrote, "Phenomenal, I love how they have a slightly overgrown grass path. Pollinators probably love this yard."
Join our free newsletter for easy tips to save more, waste less, and help yourself while helping the planet.