Traditional grass lawns can require loads of upkeep, with regular watering, weeding, and mowing. One Redditor decided to rip out their overgrown lawn, and the transformation is astounding.
In a Reddit post, one user shared before-and-after photos of their lawn's metamorphosis. The first picture shows an overgrown lawn with weeds encroaching on the sidewalk. The after picture depicts a neat front yard with mulch and native plants.
"Last summer vs this summer," they captioned the images.
To create this low-maintenance lawn, the Redditor cut back all of the grass, weeds, and plants, making them as short as possible. Then they added 3 inches of a compost and topsoil mix.
To prevent weed growth, they added a cardboard layer and then spread 4 inches of mulch.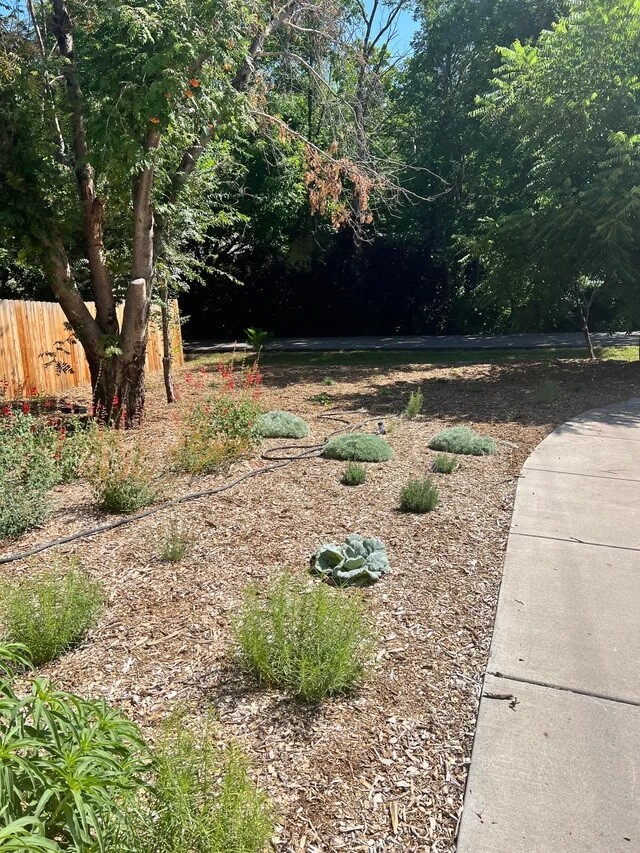 The Redditor opted for native, drought-resistant plants to cut down on maintenance. Native plants do not require fertilizers and need fewer pesticides than traditional grass lawns. They also typically need less water.
This is beneficial for both your busy schedule and the environment.
Instead of spending hours mowing, watering, weeding, and fertilizing, you can devote more time to the things you enjoy on weekends. While lawns like this Redditor's will inevitably require some upkeep, it is significantly less than grass.
With receding water supplies, especially in drought-prone areas, every drop counts. Landscape irrigation accounts for about one-third of all residential water use in the United States. That equates to roughly 9 billion gallons every day.
Not only will you be preventing water waste, but you'll also safeguard the quality of local water sources, too. Fertilizers and pesticides used to maintain grass often contain toxic chemicals. When they run off into the soil and waterways, they endanger water quality and marine life.
With all of the benefits, this Redditor's decision to ditch grass for good is a no-brainer.
Fellow Redditors were impressed by this superb lawn transformation in the comment section.
"It looks so great," one user wrote. I'm inspired!"
"Nicely done," another Redditor said.
"Very nice transformation," a user added.
Join our free newsletter for easy tips to save more, waste less, and help yourself while helping the planet.