In under a year and a half, one Redditor transformed their weedy, rocky lawn into a stunning flower garden — all by hand.
There are many downsides to traditional turf grass, which can become dry and patchy in most climates and has a tendency to grow weeds. Even when a grass lawn looks its best, it costs the owner money for water, fertilizer, and herbicide, as well as time for mowing and weeding. At the same time, it doesn't feed pollinators, and it can sometimes pollute the environment.
That's why more and more people are embracing lawn alternatives, which are often easier to maintain and more attractive. The r/NoLawns subreddit where this post appeared is dedicated to those alternatives.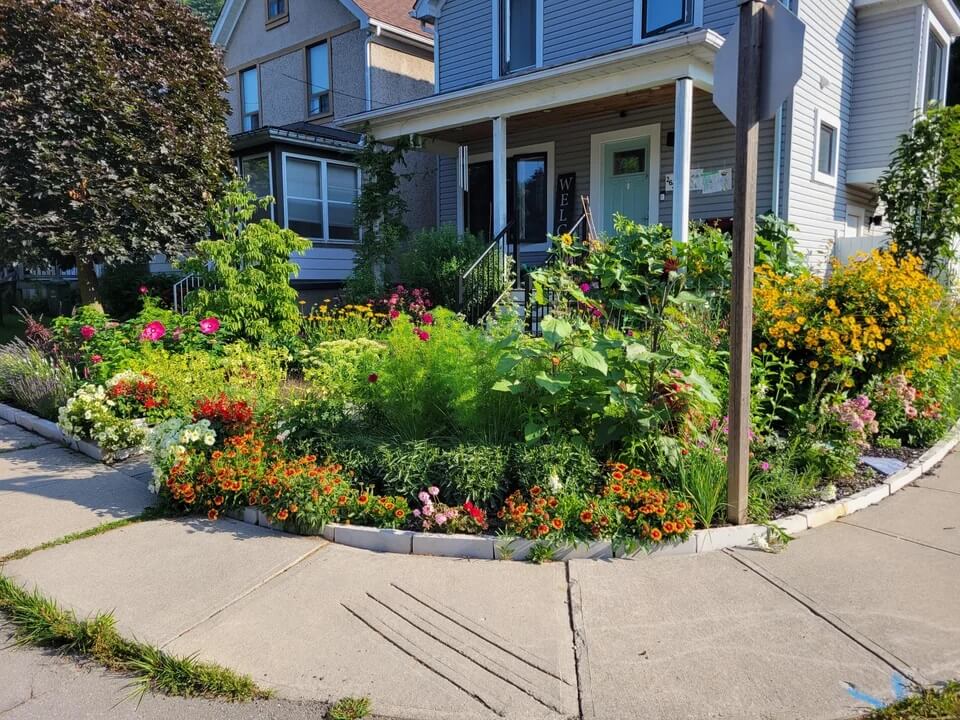 "Goodbye lawn (and weeds), hello pollinators," said the original poster. They attached eight progress photos of their yard transformation.
In the first "before" image, there was a corner lot divided in half by the paved walkway leading to the front door. The dying lawn was only interrupted by two small trees and a fire hydrant.
"I started Easter 2022 on the fire hydrant side," the original poster explained. "Using a shovel, pick axe, rake and wheel barrow, I filled a 14 yard [dumpster] with dirt, but mainly rocks … Then in September 2022, I dug up the other side — only needed an 8 yard [dumpster] that time. Easy. Sort of. Not really."
The next pictures showed the yard in the process of being dug out. "Not gonna lie, it was quite a lot of hard work," said the Redditor. "Pretty much every passerby thought I was a bit mad."
However, once the lawn and the rocky soil beneath were gone, the original poster replaced it with healthy soil, mulch, and flowers to create gorgeous, multicolored garden beds.
"This is the first year I have both plant beds up and running," they said. "Persuaded my wife to do some pour painting on flagstones, which made the path through the flower beds – which I absolutely love."
"There are approximately 70 varieties of plants in there — lots of native plants," the homeowner added.
Not only were they pleased with the garden, but so were the local bees and butterflies. "Pollinators seem to love it," the Redditor said.
Commenters were also impressed.
"So well done, it looks like it was done by professionals," said one user.
Another added, "I love absolutely everything about this!"
Join our free newsletter for easy tips to save more, waste less, and help yourself while helping the planet.