An aerial view of what one Redditor identified as John Travolta's house provoked intense reactions from commenters this August.
The photo appeared in r/Anticonsumption, a subreddit whose tagline is simply "consumerism kills." The community is dedicated to finding ways to buy less, reduce waste, and minimize members' impact on the planet.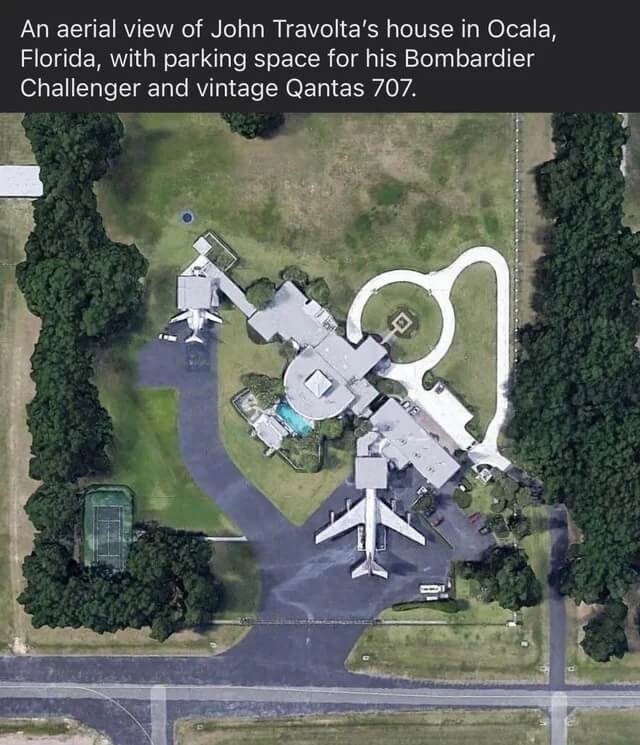 When a user showed how the most wasteful members of society live, the responses are predictable.
"An aerial view of John Travolta's house in Ocala, Florida, with parking space for his Bombardier Challenger and vintage Qantas 707," was the caption on the post.
In the photo, Travolta's mansion was visible sprawling across acres of open lawn. While a long, winding driveway led to the massive parking lot in front of the house, it was dwarfed by the tarmac in back, where two jet planes stood partially under covered ports. The swimming pool at the back of the house and the tennis court tucked into a tree-lined corner of the property were almost afterthoughts.
"It's like he doesn't even care about tennis," one Redditor joked, while another had no time for jokes and simply called it "disgusting."
"I love the shape of the driveway," said another scornful commenter. "It's absolutely ridiculous. Like they clearly wanted people to get a good look at the whole house while driving up but didn't want to move the driveway itself."
But the biggest issue by far was the two planes. "Just by owning two jets, his carbon footprint is larger than a small city," said one user. "We truly need to abolish grossly excessive wealth like this."
According to Mongabay, air travel is responsible for 4% of the planet's temperature increase, which is more than most countries. Riding in an airplane produces about 100 times as much heat-trapping carbon pollution as riding a bus or train for the same amount of time — and when it comes to private planes, all that pollution is the fault of just a few wasteful people.
"I wouldn't care how wealthy a person is if they took care of the environment," said one commenter. "Those planes do not fit into that category."
Join our free newsletter for easy tips to save more, waste less, and help yourself while helping the planet.