One Redditor's simple renovation produced striking results and saved their backyard from becoming an unusable swamp.
"Our landlord/landscaper let our backyard go to s*** while I was traveling for work, so I took matters into my own hands and renovated it myself," said the Redditor, sharing photos of the process from start to finish.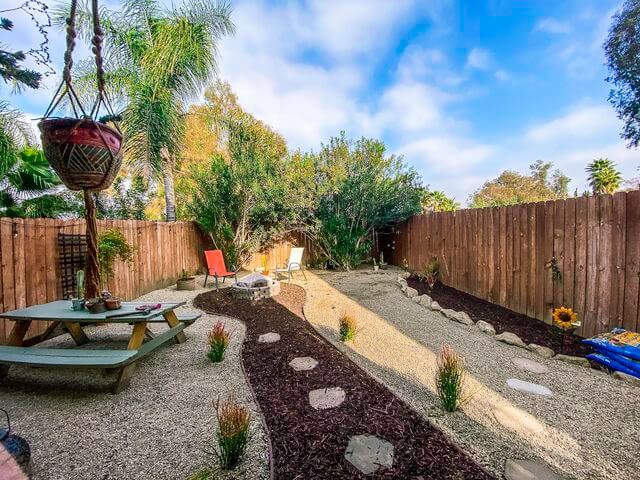 Their post appeared in r/DIY, a community of over 23 million users, all swapping tips and stories about their crafting and home improvement projects. Even among all those posts, this Redditor stood out for how much they achieved with just a few simple ingredients.
Their "before" photo shows a backyard that's been reduced to mud, algae, and a few sad, yellow remnants of grass.
"I was on the road for work for about a year," they said. "When I left, this was a beautiful 40 foot by 20 foot grass yard and garden. When I got back, it looked like a muddy, smelly mess."
It's not the only time a Redditor has been left with a yard that was completely destroyed by an irresponsible landlord. This Redditor didn't trust their landlord to fix it after letting it get this bad in the first place, so they tackled it themselves.
"Because we live in an apartment I cannot put in anything permanent, and with only a few hundred bucks to spend, I had to be creative," they said.
First, they mapped out a broad path leading from the porch to the fire pit. They placed a barrier along the edges of the path, then filled it with wood mulch and the rest of the yard with pea gravel.
"Found these really cool (and super toxic apparently) succulents at a farm nearby," they added, sharing a photo of four of the green-and-pink plants along the edges of the path.
All that was left was lighting. "Added some cheap solar lights from Lowes to give it some night time character — and that's a wrap!" said the Redditor.
The finished design in their "after" photos is an unforgettable desert oasis, with scattered succulents adding touches of green to the sand-colored stone and the neighbor's palm trees peeking over the fence.
"Looks good, but I can't ever imagine spending my own money to fix up someone else's property," said one salty commenter.
"I will be taking most of this with me when I leave," said the original poster.
Join our free newsletter for easy tips to save more, waste less, and help yourself while helping the planet.