In a Reddit forum dedicated to thrift finds, a woman revealed a purchase that has jaws dropping.
In her post, the woman shared several pictures of an original Dooney & Bourke All Weather Leather Duck Bag that she scored from a Goodwill in Frederick, Maryland, including a price tag of $24.49.
The purse appears to be in pristine condition — and what a steal it was, with the latest edition of the handbag retailing at $228 on the Dooney & Bourke website.
While there was much speculation as to whether the bag was a knock-off or not, the consensus seems to believe that it is, in fact, the real deal.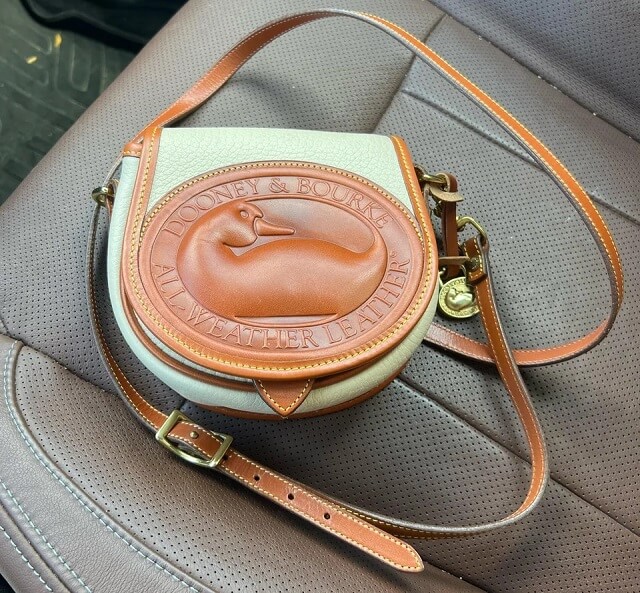 While there are several reasons to avoid purchasing leather products, there is much to be admired about the savvy choice of secondhand shopping. While thrifting can be a bit tedious, the all-around economic and financial benefits make it well worth it.
It is, without a doubt, a more affordable way to find one-of-a-kind pieces for a bargain, with items typically selling for 36% of the original retail price.
Secondhand shopping is also an excellent way to practice sustainability and reduce waste. Every year, 10 million tons of clothing in the U.S. are tossed into landfills. The fashion industry is also responsible for 10% of the world's carbon pollution. With big manufacturer factories churning out mass quantities to keep up with consumer demands, reused fashion can help curb those numbers while also contributing to water preservation.
A single pair of jeans takes roughly 1,800 gallons of water to make and requires a lot of energy.
Clothing production and textile manufacturing also incorporate harmful dyes and require genetically modified cotton, the latter of which relies heavily on pesticides.
But, as we've seen, one person's trash can easily become another person's treasure.
Even though this particular Redditor said she paid more than she would have liked (what?!), she is clearly still pretty content with her find. Alas, she better hold on to her new bag tight as several collectors proclaimed their jealousy in the comments.
One user commented, "Beautiful condition! This is one of my white whales!"
"It's gorgeous! Amazing condition, enjoy your new treasure!" said another.
"This is unreal! I love vintage Dooney & [Bourke] and I've never seen anything like this before," noted a third. "What a score!"
Join our free newsletter for easy tips to save more, waste less, and help yourself while helping the planet.