The joy of finding a diamond in the rough.
A Redditor shared their success story with an African violet, which they found for $1 on the clearance rack at Lowe's, writing, "It was blistering under the valley sun."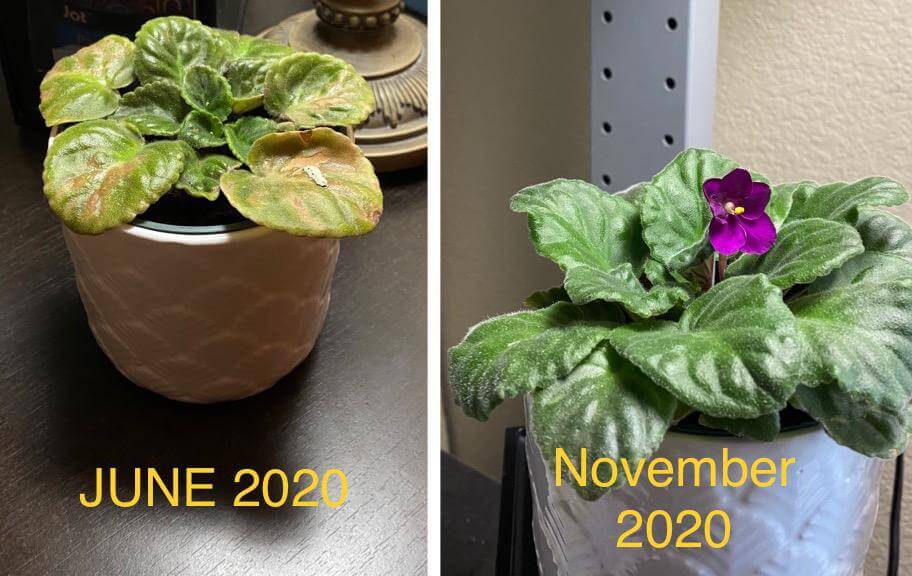 "I live in the central valley of CA, America's agricultural heartland," they wrote. "It's blazingly hot and dry in the summer and this violet was badly charred on the clearance rack outside at Lowes, it even had some paint on it as you can see from the lower right leaf. … The color is very rich and shimmery in person. I was never an African violet person but this little one gave me lots of excitement."
The transformation took five months in 2020.
The indoor plant is native to tropical rainforests in Tanzania and Kenya and doesn't require much care, according to Old Farmer's Almanac. A little watering; bright, indirect sunlight; and warm temperatures are enough to coax out vivid violet flowers.
Clearance plant revivals are common enough, but sometimes they take a little luck. Another Reddit user had success with a verbena, but their other two plants were in dire straits.
One more Redditor produced a bounty of grapes for less than $1 six years after their clearance find. It didn't require much work, either.
Fresh produce is just one advantage of gardening. The practice also carries environmental benefits such as cleaner air, improved soil quality, and protection for wildlife and pollinators.
Health benefits abound, too. In one study, community gardeners showed increased fiber intake and activity in addition to decreased stress and anxiety. In another, community gardeners reported higher levels of subjective well-being, resilience, and optimism.
"You should get much more than one single flower shooting up off of the plant, in time," one commenter wrote. "Mine usually has several flowers blooming at any given time with that nice rich color, and as old ones die off new ones will pop up to replace them. I have to prune mine every once in awhile, and I have excellent luck rooting pinched leaf stems in plain tap water if I want to propagate new plants for friends."
Another said: "Great job! My great-grandmother was a wiz with African violets and had them blooming pretty much year round in her house. Seeing them always puts a smile on my face."
Join our free newsletter for easy tips to save more, waste less, and help yourself while helping the planet.