Coffee pods are everywhere — on store shelves, in kitchen cabinets across the globe, and, unfortunately, in our environment and landfills, where they'll sit for hundreds of years. Users pop them into their coffee machines for a couple of minutes, and then into the trash they go, furthering the growing problem of single-use plastics.
There are advantages to these pods, though. To their credit, plastic coffee pods do reliably deliver a fast cup of Joe. But sometimes, the freshness of that coffee leaves a lot to be desired.
Luckily, some creative thinking by one startup may have discovered a way to deliver the best of both worlds, revealing the secret to coffee that is both sustainable and fresh. Steeped Coffee, as its name may suggest, offers some selected roasts in what are essentially tea bags — with an additional twist.
After being ground, the roast is sealed in Steeped's fully compostable packaging with nitrogen to assure peak freshness. When it's time for a brew, the packaging is unsealed, and the coffee bag gets dropped into a pot or mug. In five minutes, it's ready to go.
According to the company's website, each Steeped Single Serve Coffee Bag is made of a non-GMO food grade renewable and biodegradable material, while the outer packaging is made using compostable and renewable materials.
The brand also reports that its retail cartons are both recyclable and made using 100% recycled materials.
"Each element of our packaging is utilizing every known innovation that we are aware of, while also preserving our coffee's quality and freshness," reads Steeped's ethos page. "We continue to learn, innovate, and improve our materials as a top priority (not an afterthought). You can be assured that we'll keep doing our best, so by all means … don't buy garbage."
According to Josh Wilbur, the CEO of Steeped Coffee, premium coffee roasters have long "shied away from offering their specialty beans in single-serve packaging because it's been nearly impossible to keep ground coffee fresh, which quickly ruins the taste."
"With our nitro-sealed bags, oxygen is replaced with nitrogen, so the coffee stays fresh as if it was ground moments ago," he added.
If all single-serve coffee was sold in packaging that avoided plastics, it would do wonders for the health of our planet. Indeed, the original inventor of the coffee pod, John Sylvan, has said he regrets ever creating them, citing their devastating environmental impact and cost.
Companies like Steeped Coffee, if successful, can help draw attention to the wasteful nature of plastic packaging and motivate an industry change towards sustainability and biodegradable products that benefit consumers and our entire ecosystem.
The Cool Down may receive a commission on purchases made through links on this page at no cost to you. Price and availability are subject to change. Learn more about our Product Mission here.
1
Steeped Single-Serve Coffee Bags are filled with 100% artisan roasted specialty coffee and are crafted for quality, convenience, and sustainability. Every proprietary Steeped Coffee Pack is pre-portioned, precision ground, and triple nitro-sealed for freshness within Guilt-Free Packaging that's fully compostable.
$39.95 for a 24 Pack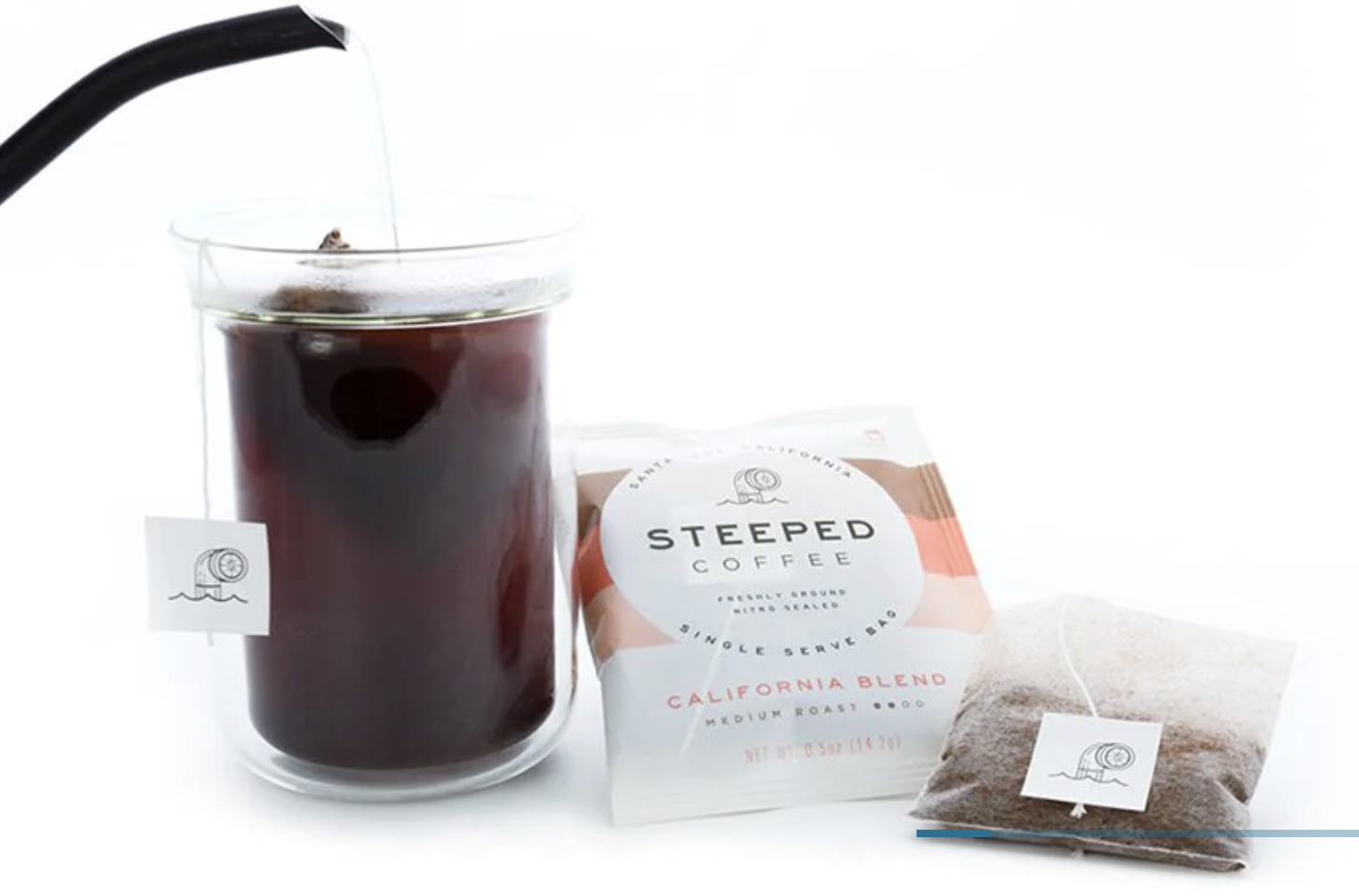 Want more? Follow The Cool Down on Instagram and join our Weekly Newsletter for cool stories and easy tips that save you money, time, and our planet.