Most people would not place driving (and sitting in traffic) high on their list of favorite activities. In car-centric cities, highways bisect downtowns and border waterfronts.
Some people doubt there is a brighter future for our cities — one based on human-scale design, not cars — but a viral Reddit post reminds us otherwise.
The post showed two photos of a highway in Dusseldorf, Germany. The first photo is from 1990, showing a multi-lane highway curving down the waterfront. The image is gray and bleak. The second photo, in comparison, shows a bright and sunny 2019 shot of the same area, except now the highway is replaced with a large park.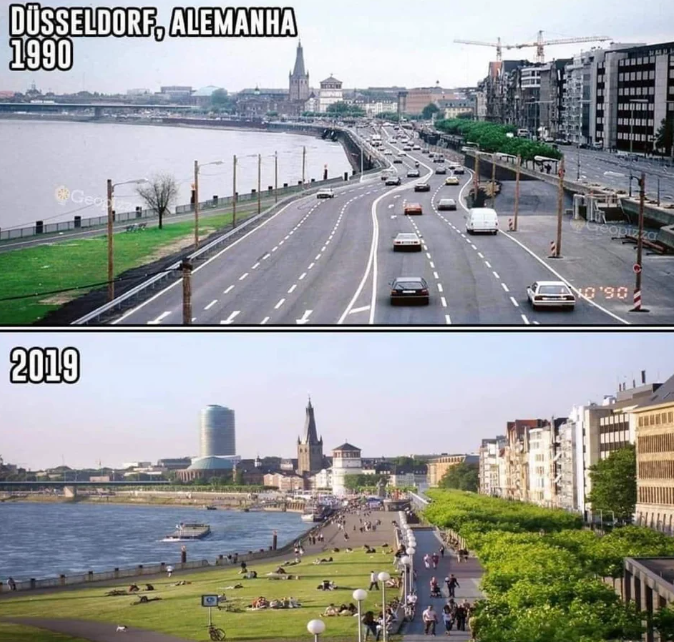 The image from 1990 shows a hostile environment where people cannot cross. It sends the message that people are not welcome, only their cars. The 2019 photo, however, shows a welcoming space where people are strolling along promenades and laying in the grass, enjoying the weather and socializing with their fellow city dwellers.
The original poster captioned the post, "It's never too late to acknowledge the reality that urban highways are a fixable mistake." The comparison shows proof that we can fix our mistakes and that the future will be brighter for it.
This post belongs to a growing movement against cars (and roads and highways). Not only do gas-guzzling cars contribute to heating up the planet, but car-centric urbanism also shifts the focus of a city away from the pedestrian — and cities are for people, right?
This post, which has circled around the internet, has over 150,000 reactions on Reddit. The discussion is lively, with some commenters elaborating on the transformation in Dusseldorf, saying, "Better, more livable cities can be built."
One Redditor explained how the highway was actually moved underground, allowing for the park to sit on top of it. These improvements helped in "making the old town, shopping area and the riverside all very welcoming for pedestrians and cyclists."
Another commenter noted that "Copenhagen has brilliantly done this too. And ALL new infrastructure is made with green areas, biking and public transport in focus."
In general, many commenters shared the sentiment that the shift towards a more pedestrian-friendly design improves the city and offers a new way for locals and visitors to enjoy the water.
Join our free newsletter for cool news and actionable info that makes it easy to help yourself while helping the planet.