One Redditor revealed that as they were in the midst of a rocky divorce, her spiteful husband dragged the local food banks into the crossfire.
Food waste comes up regularly on complaint subreddits, including r/mildlyinfuriating, where this user shared her story. The most frequent offenders are stores and restaurants, which handle enough food to create huge piles of waste every day.
But this Redditor's husband seems to have been purposefully trying to outdo local businesses at wastefulness.
"My soon-to-be-ex-husband has been taking advantage of local food banks 'just because he can,' he says, but ends up tossing much of it out because it goes bad," the Redditor claimed, sharing photo after photo of shelves and counters piled high with fresh produce, jars of peanut butter, bread, pasta, frozen meat, and canned goods of all kinds.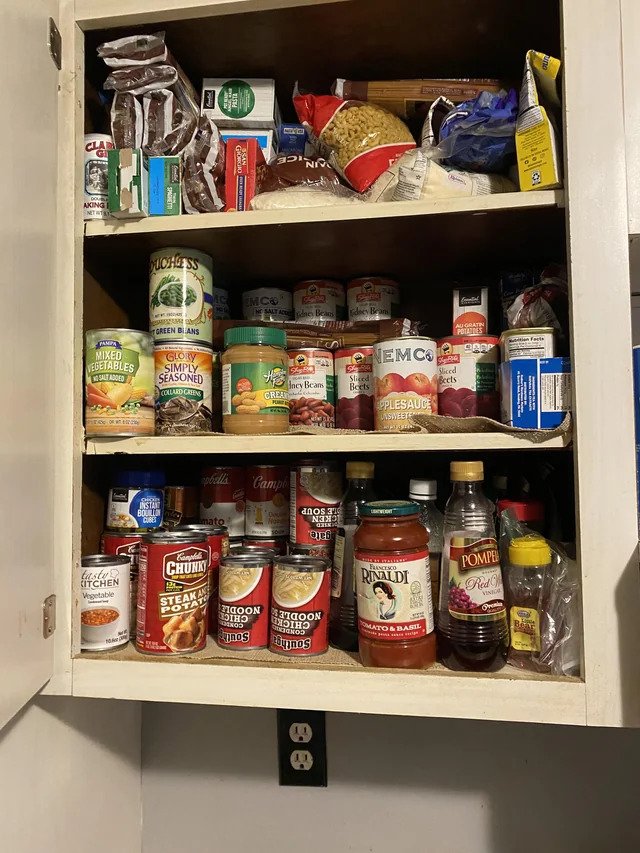 In a comment, she explained that her husband was retaliating against the OP for their upcoming divorce.
"The last month or so, he's been throwing out 'my' food and bringing back so much of this food from food banks and telling me that it's 'his' food and I'm not allowed to eat it," she wrote. "I keep finding wasted food items thrown away almost every day because they either have gone bad or he just decides 'he doesn't want it.'"
Apparently, the OP's husband wasn't using food banks out of need and was smart enough to know better.
"He (and I) can easily afford to buy food," she said and clarified in the comments that both of them are employed. "He's an educated finance guy in a politically appointed government position."
The OP attributed her husband's choice of target to her own charity work, writing, "he knows how much I volunteer my time and energy to various organizations and it's almost as if he does this because he knows it bothers me so much."
"These places have even given him homemade items that people donate like huge casseroles and baked goods," the OP added. "It disgusts me beyond belief."
Commenters agreed with the OP's judgment.
"That is revolting," said one user. "Honestly I would find cheating on you less disturbing."
Join our free newsletter for easy tips to save more, waste less, and help yourself while helping the planet.