If you've ever seen the bottom of an empty pizza box, you've been confronted with an uncomfortable truth: there's a lot of grease in that cheesy pie you just devoured, and some of it leaked onto its container. You might also assume that the greasy residue has contaminated the box, preventing it from being recyclable.
Domino's Pizza noticed a ton of customers throwing pizza boxes in the trash and is now seeking to clarify confusion on the topic. The company has reached a surprisingly hopeful conclusion: its pizza boxes can, indeed, be recycled, even if they look suspiciously greasy.
"Urban legend, not facts and science, says that food-stained, corrugated pizza boxes are not recyclable," Domino's website reads. "In fact, corrugated pizza boxes are made from the same corrugated cardboard that [is] recycled every day."
To encourage consumers to recycle its boxes, the company has released new boxes that feature an image of a pizza cutter along with the words "Do Your Slice, Recycle This Pizza Box" emblazoned across the top. The box also includes a QR code that directs customers to a website where they can find our more about local recycling guidelines.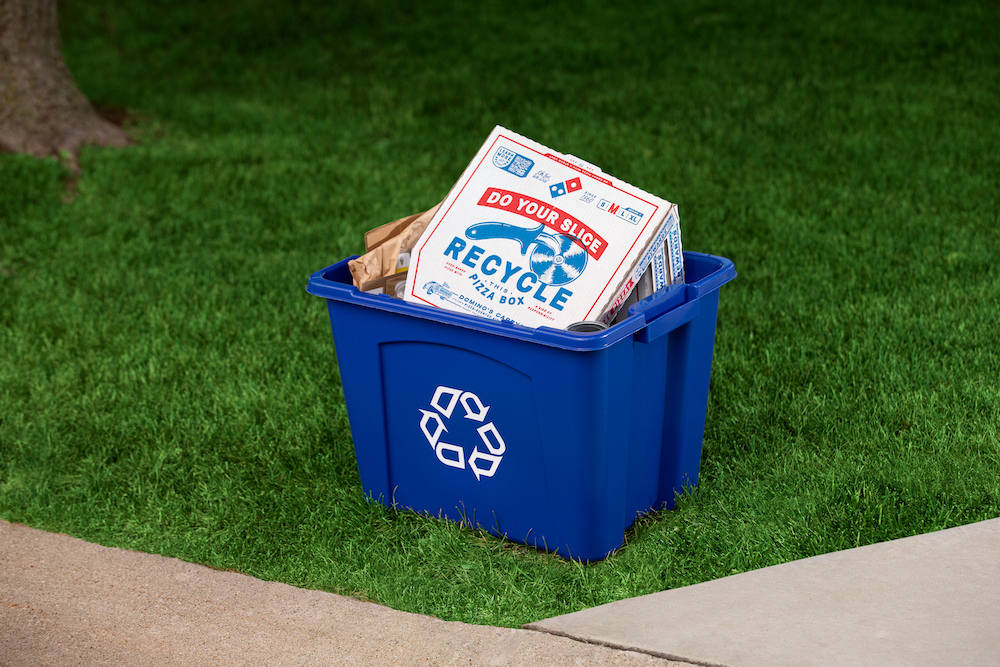 A new study conducted by WestRock, Domino's primary box supplier and one of the largest box manufacturers in the U.S., found that the overwhelming majority of pizza boxes have an average grease content of only 1-2% — and a box needs around 20% to become non-recyclable, which means most pizza boxes are completely fine to toss in the recycling bin.
The research suggests that even small amounts of cheese don't affect the overall recyclability of Domino's Pizza boxes. However, recycling expert Adam Herriott told The Guardian that bits of cheese might have some impact on boxes' recyclability in some regions, so it doesn't hurt to do a quick scan of your box and scrape the cheese off before recycling it.
"Not only are corrugated pizza boxes recyclable, the paper industry actually wants them back to reuse the fiber they contain to make new boxes. Let's dispel old legends and myths," Domino's said.
Make no mistake –– wishcycling remains a massive problem in waste management.
Contaminated plastic and paper products that are mistakenly recycled can result in entire truckloads of clean recyclables being thrown into landfills, and these mistakes significantly slow down the efficiency of the recycling process.
But we now know that pizza boxes — specifically those made by Domino's — are almost entirely safe to chuck in the recycling bin without fear of contamination.
Join our free newsletter for easy tips to save more, waste less, and help yourself while helping the planet.