If you're like most folks, you probably haven't given much thought to your detergent beyond what smells good, what doesn't make your kid itchy, and what's on sale this week. But as something we literally flush down the drain — and toss into the landfill to the tune of over 677 million jugs of laundry detergent per year — it's something worth thinking about.
Plus, with some popular brands getting banned in New York state over probable carcinogen 1,4 dioxane, we're learning that the need to make the switch to eco-friendly laundry detergent is more pressing than ever.
Luckily, there's an easy answer that lets you feel good and stop stressing over detergent: Meliora Eco Laundry Powder. It's affordable, eco-friendly, and effective.
Meliora means "better," and they're not wrong. Less expensive than Tide if you compare the price-per-load for HE machines, created with a MadeSafe and Leaping Bunny certified formula, and available in a refillable, fully recyclable container … What's not to love about this women-owned Certified B-Corp?
You can feel good about supporting both people and the planet with your purchase and enjoy a truly clean laundry experience.
The Cool Down may receive a commission on purchases made through links on this page at no cost to you. Price and availability are subject to change. Learn more about our Product Mission here.
1
The A+ non-toxic laundry powder that's cheaper than Tide. Meliora's detergent is highly concentrated and made of natural ingredients that will get rid of stains and keep your clothes soft and clean. A little goes a long way!
$18.99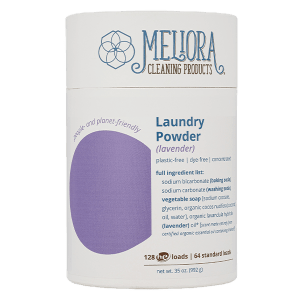 Join our free newsletter for easy tips to save more, waste less, and help yourself while helping the planet.