Every thrifted item tells a story, but none more so than this Redditor's haul, whose secondhand tea cup has a presidential history.
A photo posted in the r/ThriftStoreHauls subreddit shows a pristine white cup and saucer, which bear the presidential seal embossed in gold leaf.
According to the Redditor, this selection of fine china was intended for use by John F. Kennedy onboard Air Force One — a rare find.
"Unlike White House China, very few place settings were made for Air Force One," they said in a comment. "These were for the President and his family, not for entertaining guests."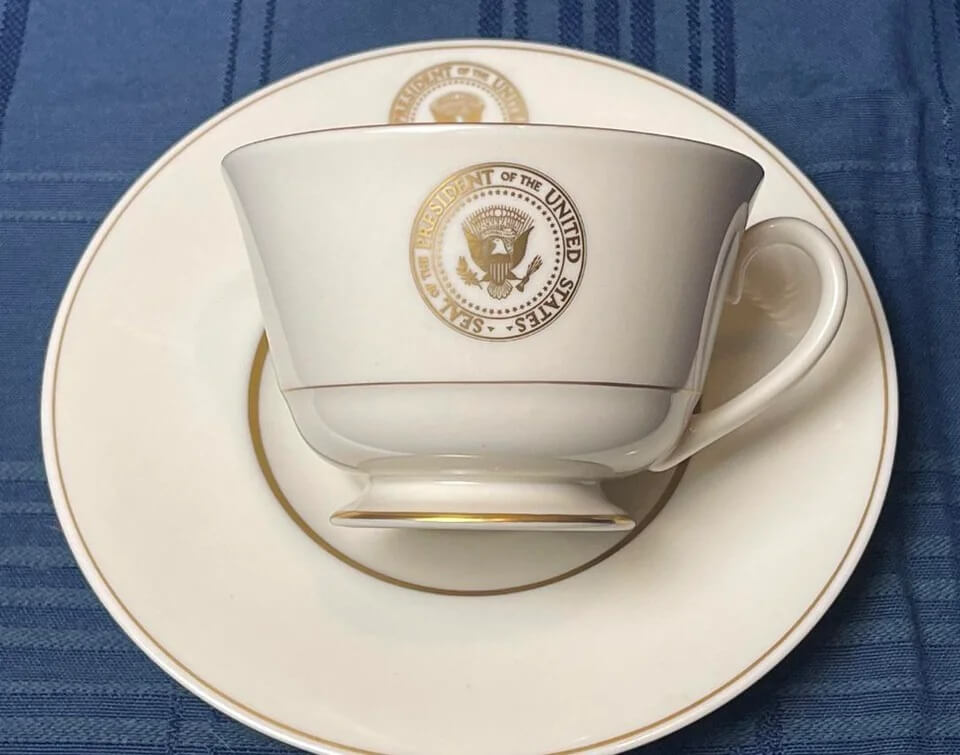 What gives this particular set away as JFK's is the Franciscan Masterpiece China backstamp on its bottom — Franciscan made these specifically for Kennedy's use on Air Force One. Plus, the White House China tends to be made by Lenox, according to the original poster.
The fact that Jacqueline Kennedy ordered Franciscan Masterpiece China for use aboard Air Force One is supported by a post on the website of the John F. Kennedy Presidential Library and Museum, though the china may not have actually been used by JFK.
The Redditor stumbled on it in The Guild Shop in Houston, where it was priced at about $20.
When they researched the crockery's value later, they found that the minimum auction would be at least $3,000.
"Had no idea the historical significance until I was researching value for an eBay listing," they wrote in a caption. "It has been authenticated by the estate of a premier collector."
It's impressive loot, but JFK's tea cup and saucer has some competition for most historic thrift. Other shoppers have found Winston Churchill's letter, an 1885 Liberty Head coin, and a rare Bob Dylan record.
Clearly, there's money to be made as well as saved for the eagle-eyed thrifter. There's also the added benefit that thrifting these items keeps them out of landfills, which continue to swallow increasing amounts of waste each year.
In the U.S., the amount of municipal solid waste sent to landfills increased from about 140 million to about 146 million tons between 2000 and 2018.
That's in spite of the proportion of waste being sent to landfill actually going down — 94% of all wasted was landfilled in 1960, compared to 50% in 2018. Our waste production is accelerating, putting pressure on the environment — the rise of secondhand shopping could help to stem that flow.
But for many consumers, including this Redditor, the real pleasure of thrifting comes from the buzz of stumbling on a rarity.
"Shut the front door this is so cool," one Redditor wrote.
"A relic of history for a bargain price. So lucky!" another commented.
"It blows my mind that these sort of things end up at a thrift shop," another agreed.
Join our free newsletter for easy tips to save more, waste less, and help yourself while helping the planet.