One shopper recently discovered a product that may be good for nothing more than helping someone win the new game show "Snake Oil."
The Redditor put the "pointless" item on blast in a post that has gotten a lot of engagement.
The product in question? A pool noodle knife to help adjust the length of the popular foam flotation devices.
"Just in case u can't possibly find a way to change the length of ur pool noodle," the Redditor wrote under a picture of numerous pool noodle knives hanging in a store.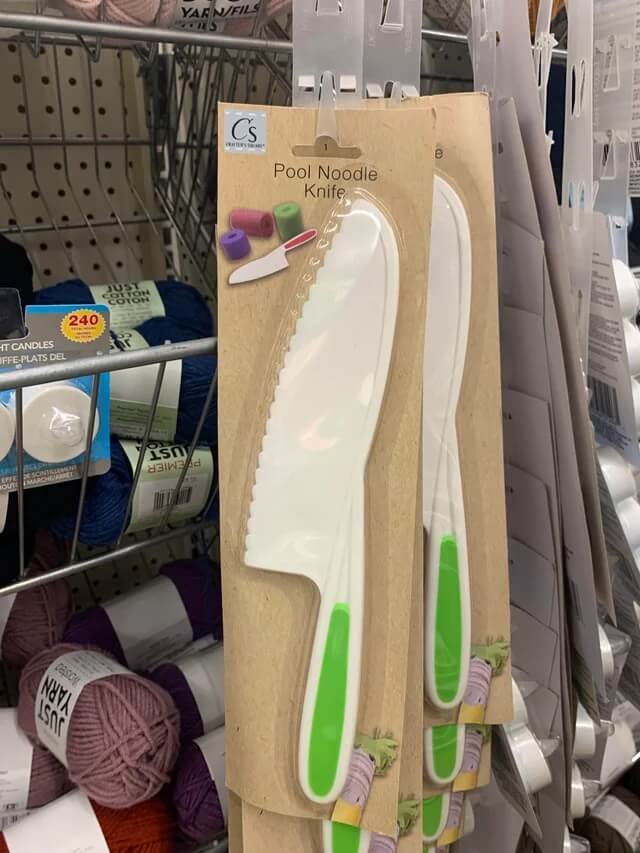 "Couldn't sell them as lettuce knives so they've repackaged and rebranded," one Redditor speculated.
The knife and the disposable packaging that covers the tool appear to be made of plastic.
Notably, the Organisation for Economic Co-operation and Development (OECD) reported that just 9% of plastic waste is recycled successfully, while data from 2017 showed that the packaging sector is the leader in global plastic production.
Plastic pollution is reportedly responsible for the deaths of 100,000 marine creatures annually, with more than 65% of marine mammals eating or becoming entrapped in plastic waste.
According to the World Wildlife Fund (WWF), a 2019 study revealed that humans consume roughly the plastic equivalent of a credit card per week, which is concerning given that microplastics have been linked to potential health risks.
The good news?
Some major companies, such as Kraft and Coca-Cola, are making adjustments to reduce the amount of plastic waste created by their products, while others have come up with solutions for consumers like eco-friendly lunch bags and dissolvable dishwasher pods.
"Here's what really gets me: the extent of the waste," one Redditor wrote of the pool noodle knife. "The inevitability that it will all just end up in 'the trash' due to the futility of the device."
"It should be heavily taxed to produce and sell these unnecessary items," another suggested.
Join our free newsletter for easy tips to save more, waste less, and help yourself while helping the planet.