In August, one Redditor's dream came true in the aisle of a thrift store.
Thrift store shopping is a smart way to cross items off any wish list. Secondhand items are steeply discounted, even when they're in perfect condition. Buying them reduces the demand for new items, and less manufacturing and shipping means less pollution. At the same time, every item bought in a secondhand store is one less item filling up the local landfill.
And sometimes, just sometimes, a lucky or persistent thrifter finds an incredible luxury product they couldn't get any other way.
"I've always wanted one but I could never afford one," said this stunned Redditor about their recent purchase. "I got this today and I cried in my car on the way home."
The photo they attached to the post showed a beautiful, almost flawless Le Creuset Dutch oven in what appears to be the brand's "flame" color, with its matching lid intact. It was lovingly buckled into a car seat to protect it on the way home.
"It's in great condition, too," the Redditor commented. "It's obviously used and it has a couple superficial scratches, but nothing deep."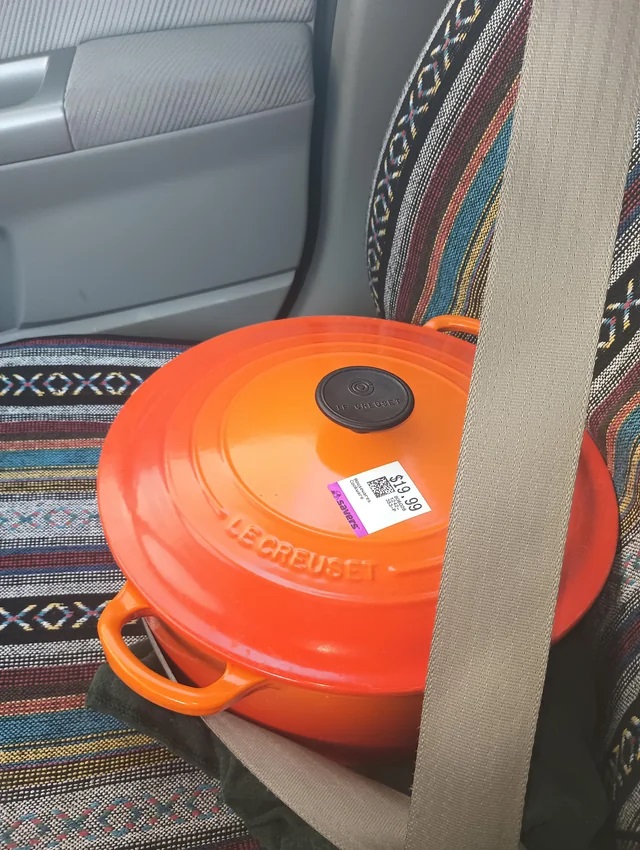 Aside from its range of cheerful colors, Le Creuset's cast-iron bakeware is known for its quality, standing up to wear and distributing heat evenly when it cooks. The price for that quality is appropriately high: When purchased new on Le Creuset's website, items similar to the one this Redditor found cost $260 to $460, depending on size.
At this Redditor's local Savers, though, the sticker price was a modest $19.99. "And I had a 20% off coupon," the Redditor added — putting their total at $16.
"My mom has this exact piece," said one congratulatory commenter. "My dad bought it for her when we lived in Paris, and I think there was a transport strike at the time so he hauled it home in his arms on foot, across a bridge over the Seine and everything. It's still going strong nearly 40 years later, and it's affectionately known as the orange monster. I hope you have just as many, if not more, lovely years with yours!"
According to the original poster, they fully intend to. "I'm totally going to be making my grandchildren tomato soup in this in 50 years," they said in another comment.
Join our free newsletter for easy tips to save more, waste less, and help yourself while helping the planet.