One homeowner recently decided to join the growing trend of people tearing out their lawns — but with baby steps.
The anti-lawn movement makes perfect sense when you consider how much time and money it takes to maintain a lawn. They guzzle water, and weeds grow easily — and if you use weed killer or fertilizer to keep them looking their best, the runoff from your lawn can pollute local water sources. Plus, they offer no food or shelter to local pollinators.
It's hardly surprising that many homeowners have decided to replace their lawns with water-saving, low-maintenance alternatives like native plants. This Redditor said they were moving in the same direction, just a little at a time.
"Starting off with small sections," said the Redditor, attaching before-and-after photos of one section of their yard.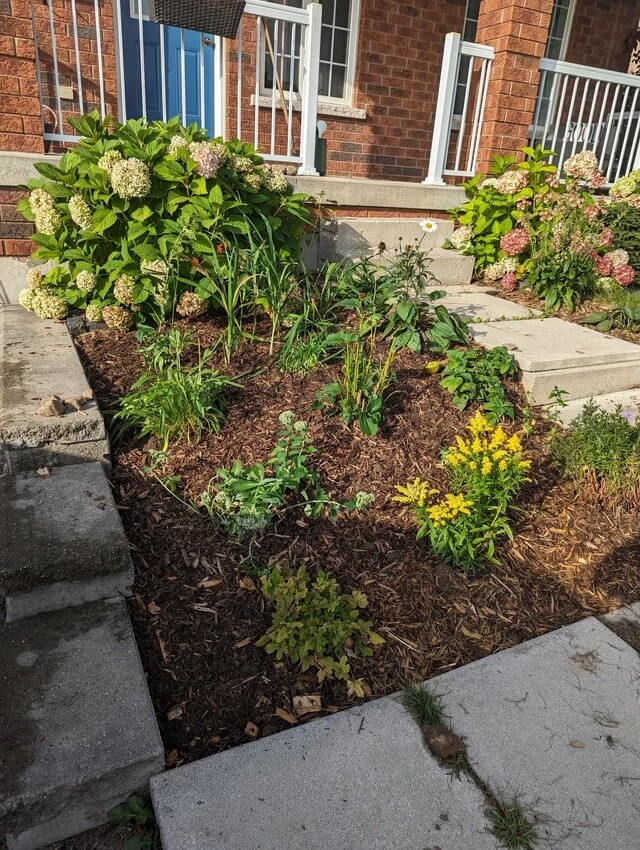 In the "before" image, the plot was full of patchy grass. But hemmed in by the driveway and front walk, the little rectangle was the natural place to put a garden bed.
The "after" photo showed a charming mulch bed with several new varieties of plants, including flowers like foxglove and goldenrod. Although they were still young, some had already begun to bloom.
"I've seen so many bees on my foxglove and my goldenrod, I can't wait to see it in full bloom next year!" the Redditor said in a comment.
There are plenty of other benefits to switching out grass for flowers. Besides feeding the bees, they add character to the landscaping. Plus, spending time outside working on a garden is healthy and relaxing. Meanwhile, the plants filter the air, removing heat-trapping carbon pollution to make the world just a tiny bit cooler.
Other Redditors supported the original poster's slow march toward a beautiful, eco-friendly yard.
"Glad you didn't overseed the lawn area, like one commenter suggested," said a commenter. "Looks much better with all those flowering plants."
"If you keep nibbling away, a small area here, a small area there , you will have it all gone before you know it," said one user.
A third person said, "It looks fantastic!'
Another option would be to hire a rewilding contractor like Yardzen to create a new yard design with native species that can be planted all at once.
Join our free newsletter for easy tips to save more, waste less, and help yourself while helping the planet.