One homeowner in Southern California traded their dying lawn for a menagerie of native plants.
The homeowner shared their before-and-after pictures on Reddit in the r/NoLawns community, where members trade tips and share success stories about getting rid of their traditional lawns. The alternatives they choose are full of character and variety — and often need much less water than turf grass, making them much cheaper to maintain.
That was definitely the case for this desert-dwelling Redditor. "I converted my lawn to native plants," they said in the post. "This is after two years."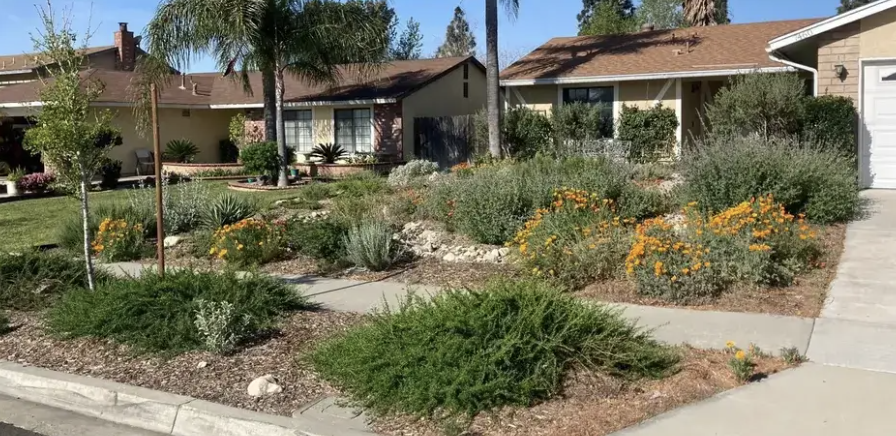 The "before" picture showed an ordinary lawn split by a sidewalk and bordered by a boxy hedge. The grass was clearly struggling in the heat, with yellow patches and even bare spots mixed in with the green.
In the "after" photo, there wasn't a trace of grass in the yard. Instead, a layer of mulch and a simulated dry creek bed were almost completely covered with flourishing flowers and low-growing plants. According to a comment by the original poster, the garden included a wide variety of plants such as salvia, California poppies, California buckwheat, bladderpod, toyon, California lilac, manzanita, and California fuchsia. They also removed the square hedge in the back to create a more natural look for the whole yard.
This Redditor isn't the only California resident switching to native plants in the past few years. The area has suffered from years of drought, and to save water, the state has offered major rebates to residents who replace their thirsty lawns with drought-resistant alternatives.
Companies like Yardzen are also helping homeowners choose the native plants that suit their needs.
The result has been major savings for homeowners and a boost for local wildlife, as all these plants and flowers support birds, lizards, frogs, and insects like bees and butterflies.
Commenters were enthusiastic about the original poster's effort. "Looks so much more beautiful!" said one user.
Others wanted to see the original poster go a step further to support endangered monarch butterfly populations. "Have you considered adding a native milkweed?" one user asked.
Join our free newsletter for easy tips to save more, waste less, and help yourself while helping the planet.