One Redditor recently shared how they transformed their yard — and life.
Like many residents of Southern California, the Redditor started out with a dry and patchy lawn. California's long-lasting drought has made lawn care expensive or even impossible in many places, and some residents are looking for alternatives. The state is even offering rebates for residents who choose low-water options.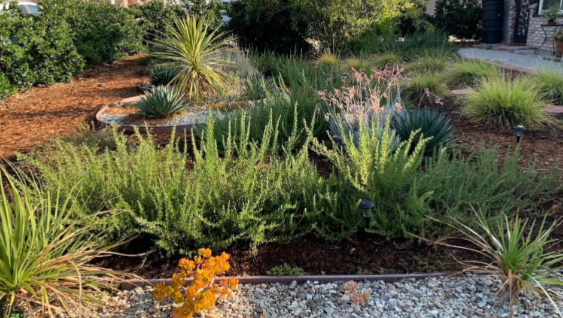 In this Redditor's case, though, money wasn't the motive. "When my wife left and I quit drinking, I needed something to fill my time and help me cope," the user confessed. "Instead of therapy, I bought a shovel and started digging."
The photos they shared showed the unbelievable results: Instead of dry grass, they filled their yard with beautiful, drought-resistant native plants. The lush greenery and colorful flowers are dotted over a landscape of gravel and mulch garden beds edged with brick. A path of brick pavers winds through the yard, and garden lights ensure the space is beautiful even at night.
If you thought the Redditor must be an expert gardener, guess again. "Before, I didn't even own a shovel," they said. "The only green things I'd ever nurtured were an IKEA cactus and catnip. … Never expected this from myself."
Their work didn't stop with the front yard. In a comment, they revealed that they also created a succulent garden out back. "Succulents are my absolute favorite!" they said. "[I found] that I have a knack for making succulent arrangements, which I give out as gifts. I walked by an expensive plant store the other day and saw them selling ones like mine for $30!"
The Redditor said the effort helped their sobriety. "Having outdoor space to myself, to shape as I wanted, during that time was so important for my mental health," they said. "It felt like something I could control when everything else was out of my control."
This Redditor found a great way to improve their mental health during this difficult time. According to a report from the Mayo Clinic, gardening provides numerous benefits to your mental health.
Commenters were excited about the progress the original poster made in their yard and the change in their life. "It's beautiful! Congrats on finding a healthy habit and getting rid of a bad one," said one user.
For homeowners with less time to kill, some companies can help with your yard transformation. Yardzen will create a design tailored to your needs using low-maintenance native plants.
Join our free newsletter for easy tips to save more, waste less, and help yourself while helping the planet.