One diver is showing Reddit users how pervasive the issue of coral reef pollution is.
The photo, shared by a diver on the r/DeTrashed forum, depicts photos of their haul of fishing lines, lures, and hooks, along with photos of the lines wrapped around fragile coral.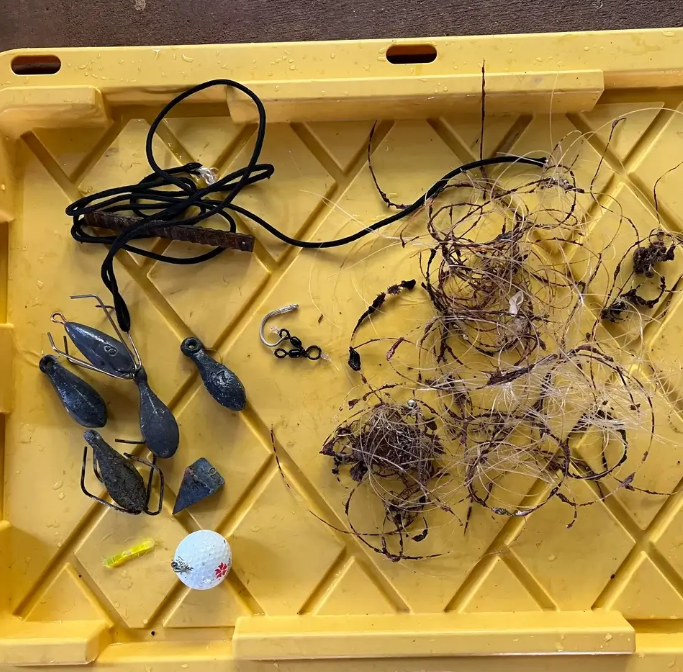 In the comments section, the poster explained how they used trauma shears to carefully cut the coral free of the ensnaring lines. Besides the coral, the poster noted that lines tucked underneath rocks can be particularly dangerous for wildlife.
"Twice I have found frantic turtles tangled up," wrote the diver.
Residual fishing lines and hooks, termed "fishing line pollution," is dangerous to an array of aquatic ecosystems. These discarded lines are often made of durable substances, like monofilament and fluorocarbon, so they don't easily break down in the ecosystem.
Nearly 2% of all fishing gear used worldwide is estimated to end up in the oceans. Commercial fishermen account for a large proportion of this "ghost gear," losing close to 460,000 miles of fishing line and 14 billion hooks annually.
Coral reefs are one of the most at-risk aquatic ecosystems for this type of pollution. In a study of plastics on coral reefs, researchers found that 75% of the material found on the reefs came from some sort of fishing gear.
The researchers also found that deeper reefs were subject to greater amounts of plastic because the areas didn't have as much wave action to dislodge the debris. Plus, divers could more easily take the plastic from reefs near the ocean's surface rather than those in deeper water.
Reddit users applauded the diver's efforts to clean up the corals.
"So cool to see a diver collecting trash! Thank you so much!!" one wrote.
"It was horrible seeing that wrapped around those poor things. Thank you," another Redditor shared.
Join our free newsletter for cool news and cool tips that make it easy to help yourself while helping the planet.