Wildfires are unpredictable and disastrous. They can occur naturally from lightning strikes or from human activity. Dry conditions, droughts, strong winds, and high temperatures can intensify wildfires, allowing them to reach devastating levels.
Preparing to evacuate before a wildfire develops can save your life and the lives of your loved ones.
Why should you prepare?
Wildfires spread rapidly and can give only a moment's notice. To keep you, your family, and your community safe, prepare ahead of time and help others to do the same.
The Western Fire Chiefs Association recommends that people in Alaska, Arizona, California, Colorado, Hawaii, Idaho, Montana, Nevada, New Mexico, Oklahoma, Oregon, Texas, Utah, and Washington remain prepared for wildfire evacuations.
It is also crucial to prepare in advance because resources become scarce during extreme weather events and other emergencies. You do not want to be without critical resources like food and water.
One way you can prepare ahead of time is by maintaining a bag filled with necessary evacuation supplies, also known as a "go-bag." Although we're talking about wildfire evacuation bags, these supplies are helpful for other scenarios where you'd need to evacuate quickly.
You can use backpacks, duffel bags, or even suitcases.
What to keep in your evacuation go-bag
When evacuating from a wildfire, remember the five P's: people, prescriptions, papers, personal needs, and priceless items.
The safety of your family, roommates, neighbors, and pets is the priority when evacuating. Make sure each person is accounted for.
Prescription and OTC medications, if possible, medical devices, and glasses or contacts.
ID or driver's license, birth certificate, Social Security card, passport, insurance policies, marriage certificate, citizenship certificates, and wills.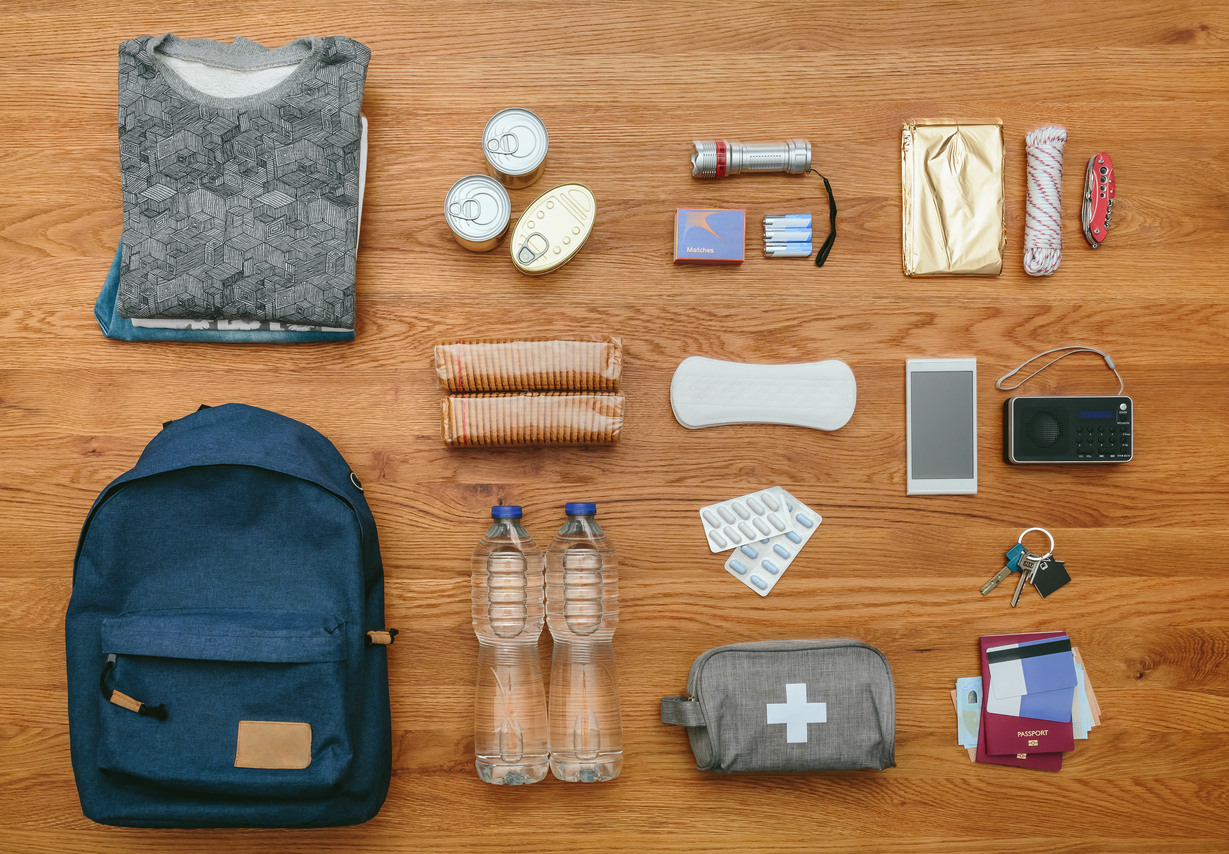 Smoke masks, water and hydration boosters, travel-size hygiene products (wet wipes, toothpaste, menstrual products, etc.), compact non-perishable foods enough for three days (energy/protein bars, meal replacement shakes, vacuum-sealed meats, freeze-dried meals, and canned goods), first aid kist, season-appropriate clothes and sturdy footwear (make sure to update clothes often for growing kids), pet food, leashes and carriers, soap, hand sanitizer, disinfectant wipes, and emergency blankets.
Sentimental keepsakes such as photos, laptops, chargers, and personal hard drives. 
Emergency cash, physical road maps of your local area and state with different evacuation routes highlighted, a whistle, flashlights or headlamps, a hand-crank radio, power bank to charge devices, multitools, spare car, home, safe keys, extra batteries, charger for rechargeable batteries, entertainment for kids, and a can opener for canned goods.
Tips for packing your go-bag
Start by packing the heaviest items first.

Pack valuables in secure compartments.

Protect documents by laying them in the bottom of your suitcase or the laptop compartment of your backpack.

Store important items like cash in the easily accessible parts of your bag.

Each person in your household should have their own backpack. These go-bags should be kept in an easily accessible location in your home.

Because bags can fill up quickly, divide some of these items among household members and make sure to keep track of who has which resources.

Wildfires can be unpredictable. This unpredictability worsens as our weather patterns change from rising global temperatures. 

Keep you and your loved ones safe by preparing for a wildfire well in advance — practice evacuation routines and routes, and stay up to date on your local wildfire risk.
Follow The Cool Down on Instagram and TikTok.