Dressmaking has seen an uptick in recent years as young people jump on the DIY trend to combat fast fashion.
One amateur seamstress has shared her own handiwork on Reddit. In a collection of photos posted to the r/Upcycling subreddit, she shows off a "new" dress made from a discarded curtain and a bedsheet.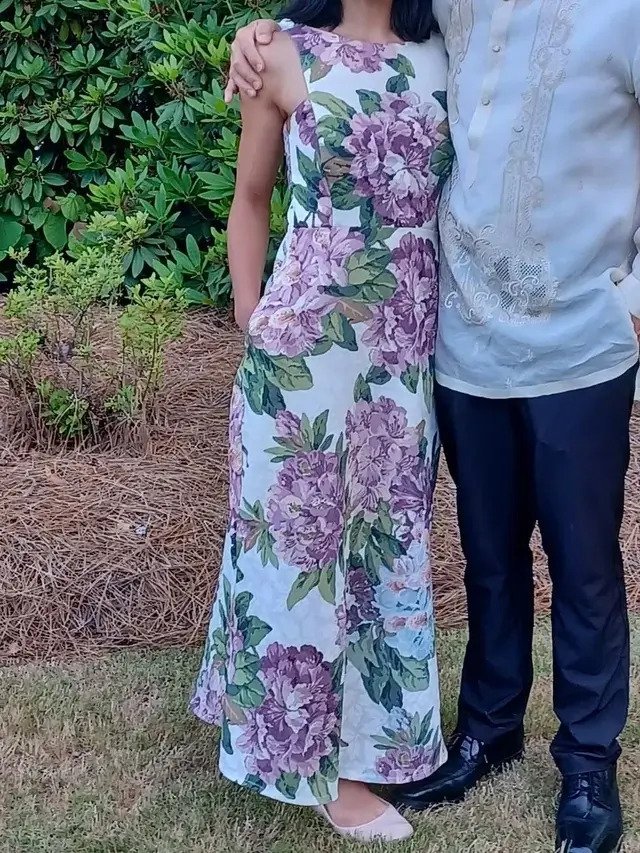 Far from the stereotypical fussy number created from old curtains, the photos show a chic occasion dress with a bold floral print, a nipped-in waist, and a boat neck.
Even a similar store-bought dress at the cheaper end of the scale could have cost the Redditor a pretty penny, but she made this occasion wear for next to nothing — she thrifted the curtain for just $3 and got the ripped bedsheet for free from her neighbor.
Making a dress like this doesn't have to be difficult, as demonstrated by this Redditor, who was a complete novice at the start of the project.
"My first piece of clothing I ever sewed!" she wrote in a caption on one of the pictures.
The environmental impact of fast fashion is well documented. Clothing manufacturers contribute the second-largest share of air pollution after the oil and gas sector, according to GENeco, while wastewater and toxic dyes from factories pollute local water supplies.
Consumers have been purchasing new clothes and throwing old ones away faster than ever before, which is producing monumental amounts of waste. The Ellen MacArthur Foundation estimated that a truckload of textiles is sent to a landfill or incinerated every second.
Some clothing retailers, including H&M and Boohoo, have started textile recycling initiatives to combat the industry's waste problem, but these have come under fire for overselling how much old clothes are actually repurposed.
Only an estimated 12% of the material used to make clothing worldwide is actually recycled.
By making clothes out of upcycled fabrics themselves, consumers can take charge of their sustainable fashion choices while making sure that old textiles stay out of landfill for a bit longer.
"This is gorgeous!" one Redditor complimented the novice dressmaker. "You deserve every compliment for the creativity and for your skills!"
"Nice work and excellent save!" another agreed.
Join our free newsletter for easy tips to save more, waste less, and help yourself while helping the planet.