An impressively organized gardener just showed Reddit how they converted a dead lawn into a "food forest."
Grass lawns are usually made up of just one plant species, and they take huge amounts of water and fertilizer to maintain while producing nothing for the owners or the environment. They're expensive, and they cause pollution.
Food forests, also called forest gardens, are the exact opposite. As Project Food Forest explains, these gardens are made up of multiple layers of differently sized plants, from large trees down to tiny ground cover, which produce a wide variety of edible crops. They save gardeners money on produce; the varied plants support each other and make the soil healthier; and many species provide food for pollinators and other wildlife, making food forests eco-friendly.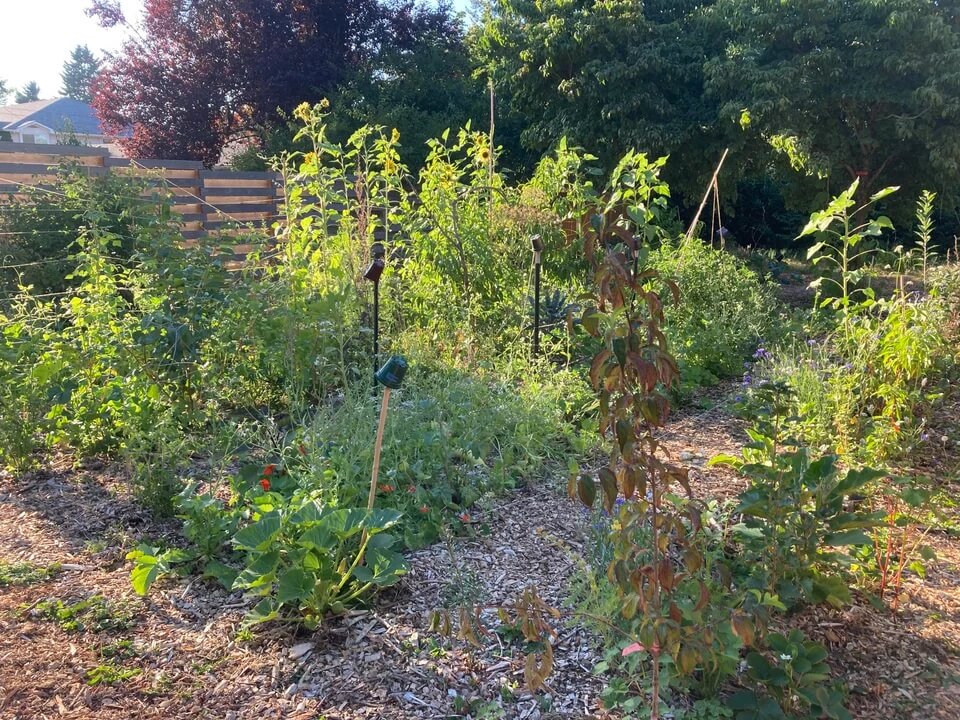 That efficient, productive use of land is what this gardener was going for in the series of photos they shared on an anti-lawn subreddit. "I converted this lawn into a syntropic agroforestry style food forest with guilds of semi-dwarf and dwarf fruit trees, shrubs, herbs, [and] veggies," they explained.
Their "before" image showed a dry, brown backyard lawn with a few small trees in place. In the next photo, they had covered some of the grass with paper and mulch to smother it and enrich the soil.
The next few photos showed progress shots of the garden and tree rows they established. "Planted in 5' wide tree rows 13' apart on center," they said. "In between the tree rows are 3' wide veggie beds planted with a variety of different veggies."
Throughout the process, the gardener worked to create a healthy balance between the plants, establishing a productive ecosystem. "Nitrogen fixers throughout, lots of pollinator habitat, and some chestnuts and almonds on the north side," they explained.
Their thoroughness came from long experience; they clarified in a comment that they "design food forests for a living."
The result was a lush, thriving garden full of a variety of plants, including some young saplings that will develop into producing fruit trees over time.
"Incredible. Great work. Much more methodical than I have the capacity to do," said one commenter. "I'm impressed."
"You can totally do this," the original poster replied. "Just takes a bit of time."
Join our free newsletter for easy tips to save more, waste less, and help yourself while helping the planet.