A thrilled gardener shared a photo of their harvest on Reddit, including a unique delicacy — huitlacoche. The Redditor proudly displays an ear of corn bearing the edible, prized fungus.
The Reddit user posted the picture in the r/gardening subreddit with the caption, "Got some huitlacoche from my first year growing corn!" While they were excited about the deformed corn, that would not have always been the case for this user, who added, "Big thanks to this sub, I wouldn't have known my luck otherwise!"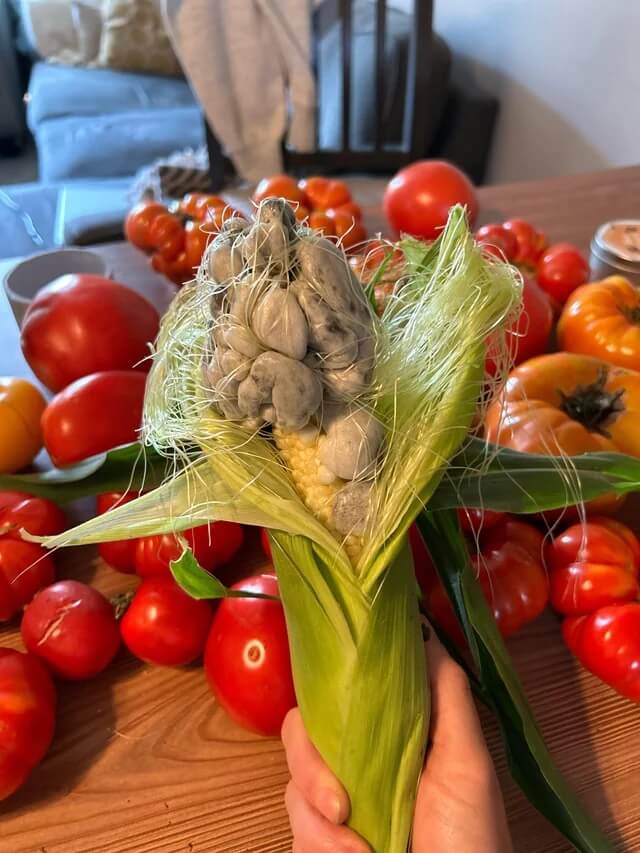 Huitlacoche, sometimes called Mexican truffle or, unflatteringly, corn smut, is a "sporous fungus that feeds off corn before its ears fully develop," according to Eater. The fungus turns inky black when cooked and carries a deep, earthy flavor with subtle smoky notes and a hint of sweetness.
The National Institutes of Health describes huitlacoche as an excellent source of protein, fiber, and almost all essential amino acids. "It's so cool that fungi can either kill you, make you trip out, or just act as a protein in a side dish," one Redditor commented. "[It's] a very versatile and terrifying thing."
A dietary staple throughout the region since the time of the Aztecs, huitlacoche has long been an important food for Indigenous peoples, including the Hopi and Zuni tribes in the American Southwest, where it has culinary, ceremonial, and medicinal uses. Common uses for the delicacy today include creamy sauces, omelets, tamales, and quesadillas.
Despite its history in Mexican and Indigenous cuisines, huitlacoche is a rare find across the U.S.
"Like other ingredients with Indigenous roots," Eater explains, "huitlacoche's present-day reputation is a byproduct of European colonization and the adoption of certain Mesoamerican crops versus others."
For decades, many American farmers considered the fungal disease a death sentence for corn crops. The Forager Chef recalls, "I grew up on a farm surrounded by corn fields…and was taught sweet corn smut was something disgusting, a sort of plague that destroyed the fields of corn farmers." This bias undoubtedly led to loads of food waste over the years.
Slowly overcoming the unfortunate branding, huitlacoche is making its way into U.S. restaurants, giving curious diners a taste of the coveted fungus. While its unique appearance might scare away some, others are intrigued by the ingredient.
"It's really hideous!" the original poster conceded. "Were it not for all the Reddit hype this ear would have been compost bound!"
Exploring and understanding how to eat a wide variety of foods allows us to add interest to our diets, reap the health benefits, and reduce food waste while learning about other cultures through their culinary delights.
As one commenter recommended: "Disregard the looks. Make a quesadilla with it. It's amazing!"
Join our free newsletter for easy tips to save more, waste less, and help yourself while helping the planet.