A happy homesteader is showing off the chicken coop that they built themselves.
The pictures were uploaded on the Reddit community r/homestead, which is all about "self sufficiency and country life."
"New coop made mostly of extra wood I got off job sites. Still have to make a hanging sign for the post, and add some lights and weathervane on Coppola," the Redditor wrote.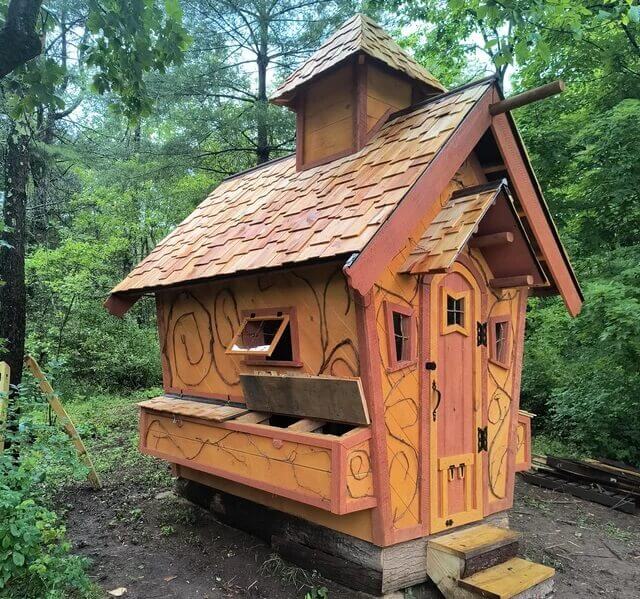 As the Redditor specified in the post, instead of buying new wood, they retrieved it from job construction sites — wood that would have otherwise gone to a landfill, where it would decompose and gradually release planet-warming gases.
Another common practice to dispose of wood is to burn it. This is even more problematic because burning wood releases harmful carbon pollution much faster than simply letting it decompose.
Deforestation contributes to around 10% of worldwide planet-warming air pollution while also destroying animal habitats which can lead to entire species going extinct. Although the majority of deforestation in the world is the result of animal agriculture, a significant amount is due to the demand for furniture, houses, and other structures, like chicken coops.
Buying new wood (or chopping down your own trees to obtain it) is much more detrimental to the environment than reusing old wood or turning scraps from job sites into something useful since this does not create a demand for fresh trees.
Commenters had plenty to say.
"This is amazing. It belongs in a fairy tale," one commenter wrote.
"You should sell the plans. I'd buy them assuming I could cut things 1/3 as well as you," another added.
Another made an interesting suggestion by adding, "Unless you're building playhouses for the very wealthy you're in the wrong line of work. You could get $30k for that for the right client as a kids' playhouse."
Join our free newsletter for easy tips to save more, waste less, and help yourself while helping the planet.