One Redditor recently shared an Amazon ad that left them in disbelief: a picture of a pile of sticks.
Amazon has a muddy image with consumers after going back and forth on its eco-friendly policies. While it has promised to reduce pollution and use less plastic, it has also quietly backed out of past pledges that would have been good for customers and the planet. It still follows many wasteful and money-grabbing practices — including charging customers and burning fuel to ship worthless products.
"Amazon is advertising sticks for sale for Prime Day?" said the stunned Redditor, with a screenshot of the listing. The product pictured, which is rated at four and a half stars, is a pile of ordinary sticks cut into roughly four-inch lengths.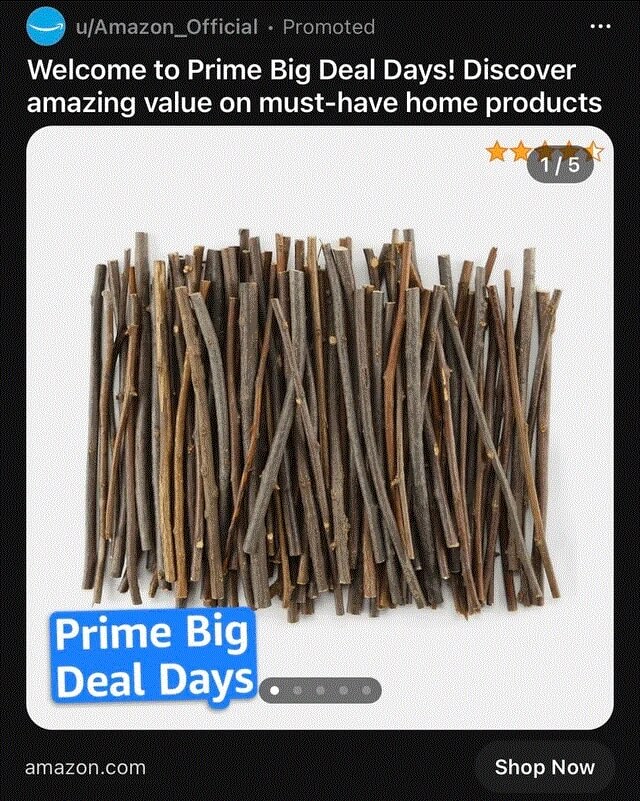 The post appeared in r/Anticonsumption, a subreddit dedicated to calling out waste and sharing ways to avoid it. The users of that community weren't pleased to see such a useless product on sale.
"Just sticks? Or could it be silvervine sticks?" asked one user, grasping for an explanation. "I hate Amazon, but I do buy silvervine sticks for my cats to clean their teeth."
"They are just sticks," another commenter confirmed, with a link to the listing which showed an identical photo.
The link also revealed that the listing was for 100 of the four-inch sticks, and Amazon was selling them for a whopping $10.
"It's very sad that people [would] rather buy these than go look for sticks in the forest (or there is no forest close by, which is also sad)," said another user.
"Prime Day in a nutshell," another Redditor concluded. "'Here's a bunch of cheap plastic trash we couldn't sell, but are hoping you'll buy it if we jack the price up 20% before Prime Day, then 'discount' it so it looks like a bargain.'"
Join our free newsletter for easy tips to save more, waste less, and help yourself while helping the planet.