A McDonald's employee is showing the internet the incredible inefficiency of their local DoorDash system.
When customers order a meal from a third party like DoorDash, it can create a disconnect in communication between the customer and the restaurant. The staff typically doesn't have the opportunity to turn away or delay orders — and if a DoorDash courier doesn't follow through, the restaurant is left literally holding the bag.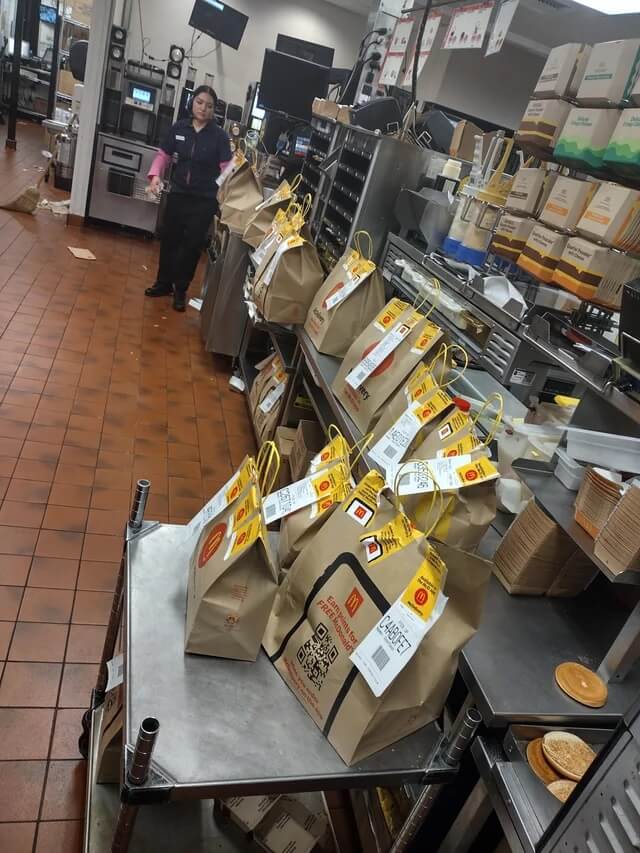 That's what this employee said happened at their local store.
"Got slammed with these DoorDash orders last night, only to throw them all away once we closed," they wrote on Reddit. "Busted our a**** for nothing."
Their photo shows a grand total of at least 14 McDonald's takeout bags lined up along the restaurant's kitchen counter. Debris on the floor underscored just how hard the employees worked to make them in time, as they didn't have time to clean up the mess underfoot.
Despite their herculean efforts, no one turned up to claim the bags, the Redditor said.
"It was all already paid for, and now it's going to have to be refunded," they said in a comment. "It's honestly infuriating. We worked so f****** hard in the kitchen, all stressed out, only to put it all into the waste. So much wasted food. We need a new system because it's evidently outdated."
"This should be illegal. No joke," one disgusted commenter wrote.
Some organizations try to step in when this happens to do something useful with the food. For instance, Do Good Foods picks up waste from supermarkets to donate what's still perfectly edible, turning the rest into animal feed.
However, far too often, the extra food ends up in the trash before even more food takes its place on the shelves — wasting resources and contributing to the needless pollution that is warming up the planet.
This time, thankfully, the food didn't go to waste.
"Luckily they let us each take a bag full of burgers once we closed," the original poster added in another comment. "But still! Such a waste of time."
Join our free newsletter for cool news and actionable info that makes it easy to help yourself while helping the planet.