A rendering of a proposed highway expansion in Colorado left the members of one subreddit outraged and dismayed.
"This is a rendering of the proposed I-70 highway expansion near Idaho Springs, CO," the original poster wrote. "They want to spend 700 million dollars to take an already large highway (darker color), remove a mountain, and ram it through. This is what the worst kind of highway expansion looks like." The statement ended with a strong use of expletives.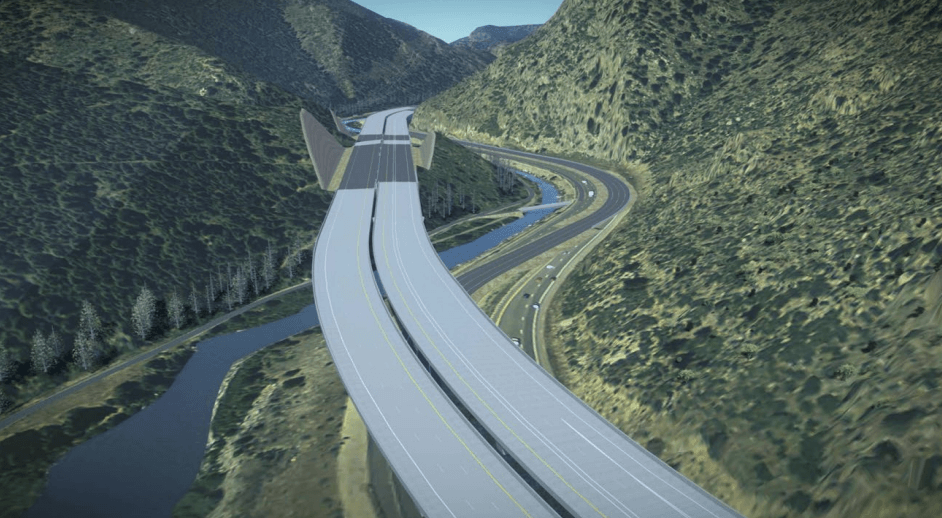 According to the Colorado Department of Transportation website, the highway expansion, called the "I-70 Floyd Hill project," is intended to "address the bottleneck on I-70 at Floyd Hill and improve travel time reliability" and "improve traffic flow and access at interchanges and intersections." Construction will run from 2024 to 2028, according to the Colorado DOT's timeline.
The main problem with that plan is that studies have shown, over and over, that expanding highways does not improve traffic flow or reduce congestion — instead, it attracts more cars, leading to more air and noise pollution, more environmental damage, and the same amount of traffic as before.
"Just one more lane bro. Promise this will fix the traffic problems. Just one more lane and everything will be great," wrote one Redditor.
"Wasting hundreds of millions of dollars and (messing) up nature further in order to be able to cut 5 seconds off, and have it added back by traffic anyways. What a deal," wrote another. "Why do governments magically have unlimited resources when building freeways but when running Public Transport, all of the sudden, they're struggling?"
The Colorado DOT also claims, bizarrely and confusingly, that expanding the highway will "implement environmental mitigation to enhance wildlife connectivity, air and water quality, stream conditions and recreation." The agency does not offer an explanation for what it means by this.
Join our free newsletter for cool news and actionable info that makes it easy to help yourself while helping the planet.