An employee was understandably upset over their company's decision to throw away extra keyboards, which does no good when it comes to environmental sustainability.
The person uploaded a picture on the Reddit community r/Anticonsumption, which currently has 640,000 members.
"My company got too many keyboards in a order so they cut the cords on the extra ones and threw them away," the poster wrote.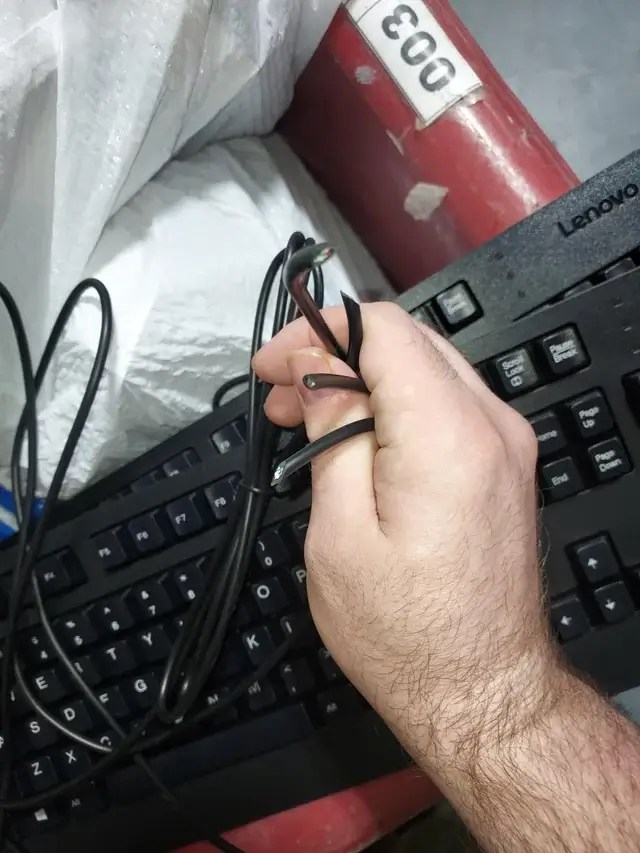 The picture shows a keyboard with what appears to be part of the cord that has been cut off.
Electronic trash is another serious environmental problem facing our planet. In general, American households produce nearly 300 million tons of trash per year.
That's around 5 pounds of trash per person per day.
On a global scale, humans produce more than 55 million tons of electronic waste each year, per Statista. In the U.S., only 35% of it is recycled by households, per the World Economic Forum, and the rest likely ends up in landfills, where it breaks down and can cause hazardous compounds like mercury and lead to leach into groundwater.
Keyboards, like the one displayed in the subreddit, are often made of plastic, much of which ends up in our oceans. Plastic can take over 450 years to break down, posing a serious threat to fish, whales, dolphins, and sea turtles.
Why a company would simply throw out new keyboards without at least taking the time to have them recycled can be difficult to understand, and Reddit commenters had plenty to say about it.
"That's just bad business," one wrote.
Another made an interesting point by suggesting "it is so their employees can't take them home and use them or resell them."
"It is like how food chains make their employees throw away breads that are made daily and threaten termination if you take it. I have read stories where corporate sometimes make managers pour coffee or old grease on them so employees and homeless people can't eat it," another person added.
One last user summed it up simply when they said: "Even if they're instructed to do so, how could you actually do that?"
Join our free newsletter for cool news and actionable info that makes it easy to help yourself while helping the planet.